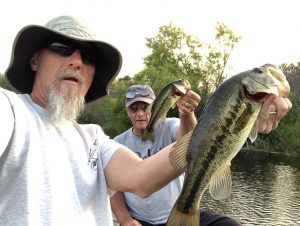 For the second month in a row I managed to get in back to back days on the water. The July version was extra cool as I fished the first day as Dad with my son, Jayce, while the second outing was spent with Dad as a son. Consult the "Recent Posts" menu if you missed the former report (shame on you) and read on for the latter report.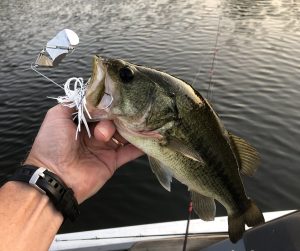 6:17am First bass 15″ 1-6 Buzzbait
Stats
Date: July 27, 2019
Location: Knox County private strip mine
Time: 6:10am-10:25am
Weather: Sunny/windy
Air Temp: 70-80F
Water Temp: 80-82F
Totals: 29 bass (Dad – 17 bass, Troy – 12 bass)
Lures:
5" Yamasenko wacky rig (smoke or natural shad) – 17 bass
5″ Yamasenko weighted wacky rig (watermelon/creme laminate) – 7 bass
Booyah Buzzbait (snow white shad) – 4 bass
Strike King Red Eye Shad (sexy shad) – 1 bass
Top Bass: Troy 3-14, Dad 1-15
Top 5 Weight: 9-13 (3-14,1-15,1-7,1-6,1-3)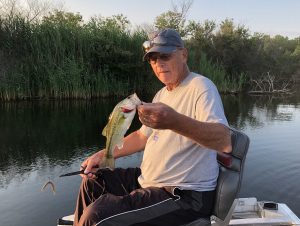 6:44am This shot reveals Dad's effective Senko wacky rig, responsible for all 17 bass he landed
Notes and Nonsense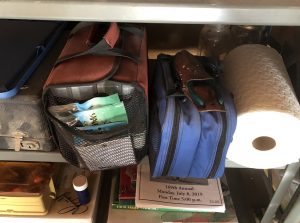 Pliers Please – Dad never leaves home for a fishing trip without his pliers. Well, at least until this trip. All good though as I had him covered once he figured out that they were home in his garage. Right on top of his tackleboxes which he also forgot to pack. Had him covered there too although his lone Senko lasted nearly the whole trip. Good for a laugh and I made sure to shoot a pic of his gear once we returned home to share with all of you faithful readers.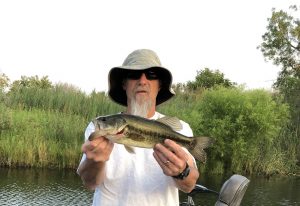 Shot featuring the reappearance of the original floppy hat on this trip as detailed below 
Flashback Floppy – So, after poking a little fun at Dad for forgetting his pliers I must shoot straight and mention that I was without my lucky floppy hat. In my case, I had left it in my truck which was in the shop for the second major repair in as many months. Turns out that the old floppy hat still had some bites left in it, including a good one (pic below).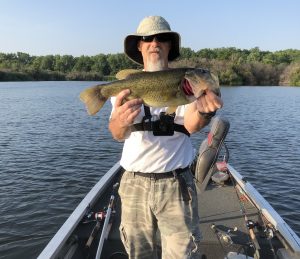 7:30am Top Bass of the outing at 20″ and 3-14 on a weighted Senko wacky rig
Old Olive Eye – If you are anywhere near mealtime as you read this post perhaps give it a break for the time being and whatever you do, don't look at the picture below. Our Top Bass of the day weighed in at 3-14 and happened to be my Top Bass of 2019 as it has been a struggle to find some quality bites. I had to pat myself on the back for the precise presentation that was required to catch this one-eyed bass. The fish had a real ugly eye that to me resembled an olive. What are the odds that I could put that Senko in the right place for that bass to spot it? Then again, maybe it was just blind luck. Or would that be "half-blind" luck?
Sorry for those fond of olives, hope this doesn't stick with you as you sip that next martini
Sinking Senko – Several of Dad's bass came after his Senko had done some extra sinking as he attended to a loop or two in his spinning reel. Fishing 101 notes that the fish will tell you what they want in a presentation. In this case, those catches advised to slow the retrieve and allow the lure to sink deeper in the water column. Seen this happen on numerous occasions but as "fast" fishermen, both Dad and I still have a hard time sticking to what the fish are saying. But hey, a 29 bass morning does show that our speedier approach isn't just blind luck.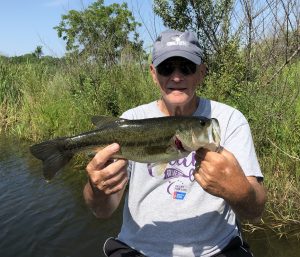 10:18am Dad finishes strong, only minutes to spare with his Top Bass at 16″ and 1-15 on the home stretch
Another good day on some familiar water, a spot that we first fished together over 30 years ago. Was sure glad that Dad decided to give it a go as the last time we shared time in the boat was July 8, 2017. Understandably not as nimble or durable a team as we once were but still a dynamic duo on the water. Talk to you later. Troy