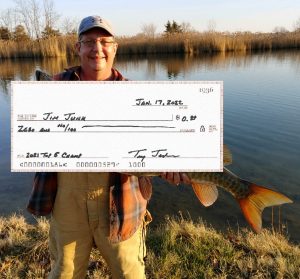 Congratulations to our 2021 Top 5 Champ, Jim Junk. Not only did he have a stellar year of bass fishing, but he also submitted our only other species entry with an impressive December muskie. Jim kicked of the 2021 Top 5 with our first bass submission on February 2 and then posted our final bass submission on December 9. For his bass dominance, Jim receives the big check for 2021. Read on for all the numbers from our eighth year of the Top 5 challenge as nine anglers added ninety-two bass and a muskie to the ledger.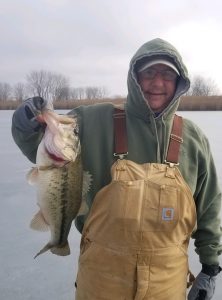 First Bass – Jim Junk February 2
2021 Totals
January = no submissions
February = 2 bass
March = 19 bass
April = 14 bass
May = 13 bass
June = 10 bass
July = 12 bass
August = 4 bass
September = 11 bass
October = 2 bass
November = 2 bass
December = 3 bass
Comments: No surprises in the monthly breakdown as quite similar to other years. Springtime sees substantial numbers as we fill out our Top 5 limits and then the numbers decline as we try to knock out the lower weights and boost our total.
Top 5 Weight by Month
January = no submissions
February = 7-3 (3-15,3-4)
March = 21-14 (5-5,4-3,4-2,4-2,4-2)
April = 21-6 (5-3,5-2,4-0,4-0,3-1)
May = 14-14 (4-6,2-12,2-10,2-10,2-8)
June = 15-8 (4-3,3-9,2-14,2-8,2-6)
July = 22-7 (6-0,4-10,4-4,3-13,3-12)
August = 7-2 (3-4,2-3,0-14,0-13)
September = 18-2 (4-7,3-13,3-8,3-5,3-1)
October = 5-9 (4-4,1-5)
November = 3-0 (1-8,1-8)
December = 9-11 (3-14.3-7,2-6)
Comments: While no new monthly records were established, any time we can post a group weight of twenty pounds is a winner. Among those, I would say that the July weight of 22-7 was an impressive surprise.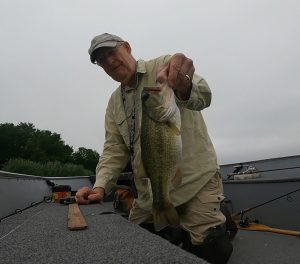 John Kirkemo – July 7
Boat vs. Bank
Boat = 29 bass
Bank = 63 bass
Comment: The 2021 crew featured a collection of anglers who spend the bulk of their time prowling the banks rather than launching their boats. Having spent a lot of time hiking and biking for my bass, I find this to be a cool stat. After all, the bank is accessible for any of us when looking to make a few casts and likely where most of us got our start.
Boat vs. Bank Weight
Boat = 18-6 (4-4,4-3,3-9,3-8,2-14)
Bank = 26-4 (6-0,5-5,5-3,5-2,4-10)
Comments: Even when we took the opportunity to get out in a boat, the bass that we fooled could not compare to those fooled from the bank. Of course, the bank bass more than doubled the boat bass. Still an impressive weight difference when you figure that a boat gives you access to the entirety of a body of water while bank anglers can be restricted by shoreline cover and terrain.
Public vs. Private
Public = 85 bass
Private = 7 bass
Comments: Public water catches dominated our submissions which I also found cool. While I do have access to the private waters of Little John Conservation Club and most any angler knows the value of having permission to fish a private honey hole, it's rewarding to fool fish where everybody else can fish. Our catches are a testament to the quality of fish out there in our public waters, primarily in West Central and Central Illinois but it does take some work to get to them and fool them.
Public vs. Private Top 5 Weight
Public = 26-4 (6-0,5-5,5-3,5-2,4-10)
Private = 13-3 (3-13,2-10,2-8,2-6,1-14)
Comments: An impressive haul from public waters featured four bass from our Top 5 Champ, Jim Junk, and an unexpected catch from New York. As far as private water, we just squeaked in with a Top 5 as there were only seven bass submitted as noted previously.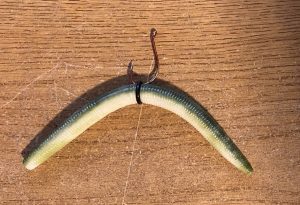 Wacky Rigged Senko
The Baits
Plastic Worm = 41 bass (Top Bass 6-0 Jim Junk)
Lipless Crankbait = 20 bass (Top Bass 4-3 Jim Junk, Troy Jackson)
Spinnerbait = 9 bass (Top Bass 4-10 Troy Jackson)
Crankbait = 7 bass (Top Bass 4-0 Brent Jackson)
Chatterbait = 5 bass (Top Bass 5-3 Jim Junk)
Jerkbait = 2 bass (Top Bass 1-8 John Kirkemo)
Jig = 2 bass (Top Bass 1-8 John Kirkemo)
Buzzbait = 1 bass (Top Bass 4-4 Troy Jackson)
Creature = 1 bass (Top Bass 5-5 Jim Junk)
Livebait = 1 bass (Top Bass Patricia Kirkemo 2-10)
Popper = 1 bass (Top Bass Troy Jackson 3-1)
Stickbait = 1 bass (1-11 Troy Jackson)
Swimbait = 1 bass (1-13 Troy Jackson)
Comments: The good, old plastic worm leads the way again and in our case the lure was exclusively a Senko, fished either wacky rigged or Texas rigged. It accounted for just over 40% of our catches and caught our Top Bass of the year. Lipless crankbaits also made a strong showing with 20% of our catches. Beyond those top two lures, the remaining results were scattered among a batch of standard offerings with a Popper, a Stickbait and a Swimbait joining the list after being absent in 2020.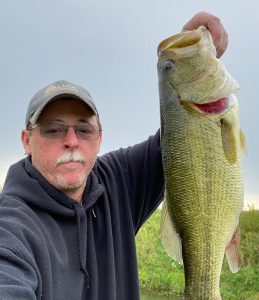 Top September Bass – Brent Jackson
Monthly Top Bass
January
No submissions
February
3-15 Jim Junk
March
5-5 Jim Junk
April
5-2 Jim Junk
May
4-6 Jim Junk
June
4-3 Troy Jackson
July
6-0 Jim Junk
August
3-4 Troy Jackson
September
4-7 Brent Jackson
October
4-4 Troy Jackson
November
1-8 John Kirkemo
December
3-14 Jim Junk
Comments: Our Top 5 champ dominated the calendar with near identical bookends and several other top monthly bass in between. It was cool that four or our nine anglers were able to claim a monthly Top Bass along the way.
2021 Top Bass – Jim Junk
Top 10 Bass
6-0 Jim Junk (7/4)
5-5 Jim Junk (3/26)
5-3 Jim Junk (4/8)
5-2 Jim Junk (4/6)
4-10 Troy Jackson (7/11)
4-7 Brent Jackson (9/3)
4-6 Jim Junk (5/25)
4-4 Jim Junk (7/6)
4-4 Troy Jackson (10/10)
4-3 Jim Junk (3/30)
4-3 Troy Jackson (6/19)
Comments: Jim darn near claimed the Top 5 for our Top 10 Bass, missing out by only a few ounces. Overall, a successful year for our crew when our Top 10 catches all came in above the four-pound mark.
Angler Weights
Jim Junk 26-0 (6-0,5-5,5-3,5-2,4-6)
Troy Jackson 20-0 (4-10,4-4,4-3,3-9,3-6)
Brent Jackson 18-11 (4-7,4-0,4-0,3-8,2-12)
John Kirkemo 11-14 (2-10,2-8,2-8,2-6,1-14)
Jayce Jackson 5-4 (1-13,1-3,1-3,1-1)
Terry Jackson 4-7 (1-2,0-14,0-14,0-13,0-12)
Emerson Hannam 3-13 (3-13)
Landon Hannam 2-12 (2-12)
Patricia Kirkemo 2-10 (2-10)
Comments: Jim's impressive limit comes in as the fourteenth heaviest weight in the eight-year history of the Top 5. I was able to squeak in with a 20-pound creel that marked the thirty-fifth limit to hit the 20-pound mark in Top 5 history.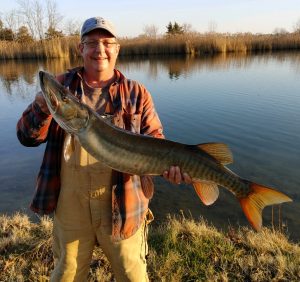 Jim Junk – December 9
Other Species
Muskellunge – Jim Junk 17-10 (43") – Decmeber 9
Comments: The Top 5 expanded to include species besides bass in 2017. Submissions have been few and far between over the years but always fun to see something different. And what a fish for our lone bonus species in 2021 with Jim's quality toothy catch.
Many thanks to those who took the time to share your fish and fish stories. We had a great mix of young and not as young anglers, guys and gals, frequent fishers, and their partners. I appreciate all and hope that you will consider joining up again in 2022. It's always a treat to see a new fish story in the Inbox or texts. Here's to a productive ninth year of Top 5 angling and stay tuned for a look at the Top 5 record book covering 2014 through 2021. Talk to you later. Troy