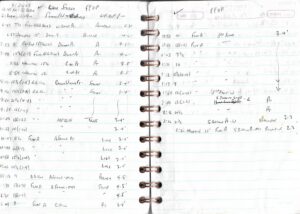 I've long enjoyed fishing the Lake Storey fall drawdown and today's flashback details my best day of bass fishing on that old fishing hole. The trip featured a trio of my personal records for a Lake Storey outing. I landed the most bass I've caught on a Lake Storey outing, the heaviest Top 5 weight I have ever posted on the lake and a new family Top Bass. In addition, I landed three walleye and a small muskie.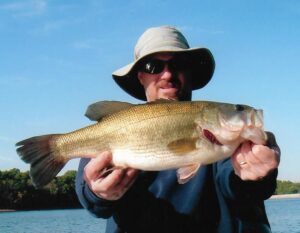 9:16am – Top Bass runner-up on the day at 3-11
Date: September 30, 2007
Tie: 6:30am-3:30pm
Weather: Sunny/windy to very windy, 60-80F
Totals: 27 bass, 3 walleye, 1 muskie
Lures: Bomber Flat A crankbait (baby bass) – 19 bass, Zoom Baby Brush Hog – 7 bass, Rapala Rattlin' Rap – 1 bass
Top Bass: 4-8 Baby Brush Hog
Top 5 Weight: 14-5 (4-8,3-11,2-7,2-1,1-10)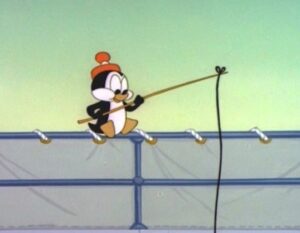 Chilly Willy Fishing – Years ago at Lake Bracken, we came up with a technique that we labeled "Chilly Willy Fishing." Basically, we used to just goof around with a simple straight vertical presentation where you drop your line directly into the water next to the edge of the boat, dock, retaining wall, etc. It seems that at some point we'd observed the cartoon penguin utilize this approach to harvest his dinner in one of the old episodes. Anyway, a few days prior to my trip, I watched Dad drop a Baby Brush Hog next to a stump in this fashion as I worked to reposition the boat. He promptly hoisted a 1-8 on board and we had good laugh recalling this nostalgic presentation. It was amazing how the fish remained tight on the piece of structure despite being directly beneath the boat in less than four feet of water. However, upon seeing several large clouds of baitfish in the area, it was obvious that the bass had a prime piece of real estate.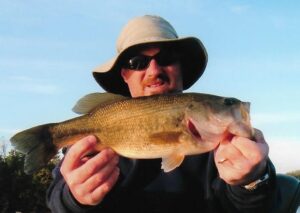 7:48am – quality catch at 2-7 to start the Top 5 for the day
Chilly Willy Point – On my return trip, the spot that we call "Chilly Willy Point" had the added attraction of being pounded by high winds from the south. I spent just over a half hour fishing the area and caught four bass weighing a total of 10-8 on my Baby Brush Hog. Individual weights, in order of catch, were 1-5, 3-11, 4-8 and 1-0. After hauling in the 4-8 back-to-back with a 3-11, I had to laugh aloud at my good fortune. In fact, the bulk of my half hour on the spot was spent weighing, photographing, and recording bass and then having to reposition the boat for another try. I had never gotten around to giving the spot a good name over the years, but it will forever be known as Chilly Willy Point.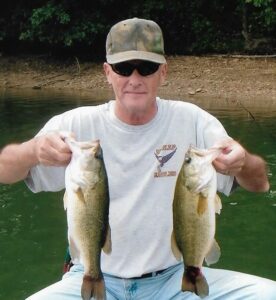 September 25, 2007 – bonus shot of Dad from a few days prior with a couple from our 11-5 Top 5 haul at Lake Storey
Chilly Willy Stump – If you know where to look, there is a stump on Chilly Willy Point, and it was home to the batch of bass detailed above. The stump is hollow on top, and Dad once caught a bass by pitching his creature bait into the opening. A classic fish story and further reason to pay homage to Chilly Willy the penguin with the name.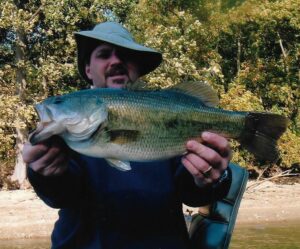 9:26am – Top Bass at 4-8 somehow landed by this goofy looking angler
Top Bass – The 4-8 established a new family Lake Storey record topping Brent's 4-7 from October 23, 1998. However, Brent would take the record back on October 19, 2018, with a 4-11 that still stands as our lake record.
My original blog entry noted that "My 27 bass on 9/30 pushed me past my goal of 200 as the 2007 total currently stands at 210." Well, this year, I have already established a new yearly record for total bass. More on that in a future article as I am aiming for a milestone on my next outing. Talk to you later. Troy