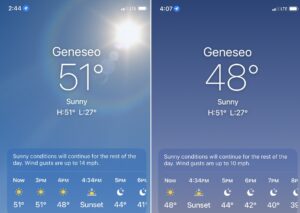 I initially suspected that a November 6 trip to The Canal would be my final outing of 2022. At that point, I was satisfied with a great year on the water and had already met my November bass goal with a batch from Lake Storey on November 2. Any more catches would be icing on the cake. And with the passing of the days, I began to observe some ice on the water as well. However, a fifty-degree Black Friday afternoon found me in search of another bite. Read on to see how it all worked out.
Stats
Date: November 25
Location: Hennepin Canal
Time: 2:15pm-4:00pm
Totals: 1 bass
Weather: Sunny/breezy, 51-48F
Lures: Special K Hammer Spinnerbait (white) with Zoom Creepy Crawler trailer (watermelon seed) – 1 bass
Top Bass: 1-1 Spinnerbait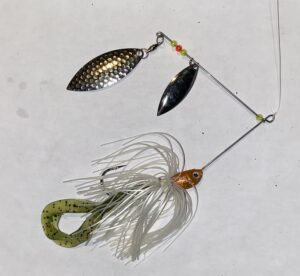 Winning Lure
Notes and Nonsense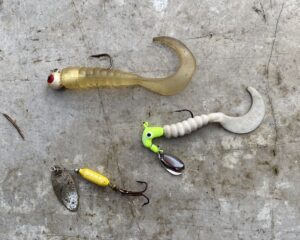 More from the "Lost and Found"
Black Friday Finds – I chose solitude so as not to get in the way of the retail craziness on the day after Thanksgiving. And while others may have also used Black Friday to set up for Christmas, I spent a few minutes removing some "bargains" or "ornaments" from trees along The Canal. While this day did not produce anything too stellar, a trio of lures from the lost and found joined my 2022 collection. At some point during the 2022 wrap-up posts, those other finds will be revealed.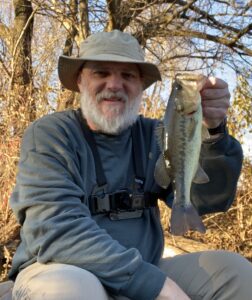 3:38pm weighing 1-1 (13.5″) on a spinnerbait
Ice, Ice Baby – Although the high temperature had reached the fifty-degree mark for a couple days, I wasn't sure what to expect in terms of open water. Just a few day prior, I had observed a fair amount of ice on shaded stretches of local waters. As I drove to my launching point, I saw that much of my intended target area was open, thus getting to some shoreline cover would not be an issue. Without a water temperature gauge, however, I had no idea on the water temperature other than "cold." But with the fifty-one-degree air temperature at launch, my fingers were plenty warm and figuratively crossed hoping for at least one bite.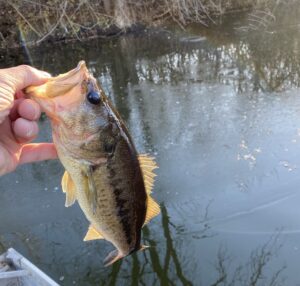 Alternate pic and cool to fool one when there is ice in the backdrop of the photo
One Bite – A mid-afternoon departure left me with roughly a two-hour window of daylight and when fishing this late in the season, I am realistically looking for one bite. I launched at 2:15pm and it took me until 3:38pm before that one bite showed up. Bites during this time of the year are noticeably different than when the water is warm. There are typically no jarring strikes. Instead, the retrieve gets heavy, and it is time to set the hook. Weeds and a couple sticks had fooled me on earlier casts, but this time around there was a fish on the other end. I talked to the bass as I reeled it to the boat, it followed my directions to stay hooked, and I landed the bite that I was seeking. I fished for another twenty minutes without any more action and decided to call it a day at 4:00pm.
I suspect that I will call it a year after this catch. Very rarely have I landed a December bass, but The Canal does offer some potential due to proximity and open water around the series of locks on the waterway. Time will tell, but it has been a great year no matter how the remaining month pans out. Talk to you later. Troy