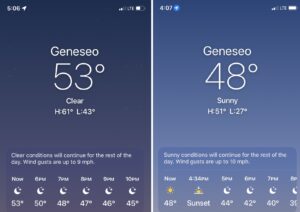 November represented uncharted territory for me as the latest that I had previously landed a bass on The Canal was October 31, 2021. For the overall annual goal of a November bass, I figured that The Canal deserved a shot, and it did not disappoint.
2022 November Totals
Two outings covering two different pools
11 bass in 5.75 hours (1.91 bass/hour)
Top Bass: 2-8 November 6 Spinnerbait
2022 November Top 5: 9-3 (2-8,2-3,1-9,1-8,1-7)
2022 Best November Top 5 Day: 9-3 (2-8,2-3,1-9,1-8,1-7) – November 6
Top 5 All-Time November Bass Weight: 9-3 (2-8,2-3,1-9,1-8,1-7)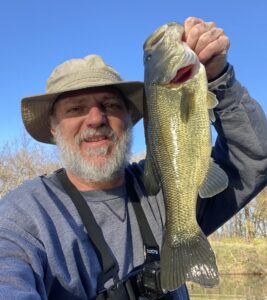 November 6 – November Top Bass at 2-8 on a spinnerbait
Lessons
Waning Weeds – In the October wrap-up, I noted the waning weeds as colder water temperatures took hold. Not surprisingly, most of The Canal weed growth continued to disappear throughout November. However, one stretch that I visited regularly was still looking downright ugly with a substantial covering of nasty, surface vegetation. The Canal is a dynamic fishing hole and observation over the course of the last seven months has been quite interesting.
Spinnerbait Success – Also expanding on the October wrap-up, a spinnerbait continued to be a winner throughout the calendar on The Canal. My first Canal bass of the year came on a spinnerbait back on April 15 and my final bass of 2022 fell to a spinnerbait on November 25, a span of 224 days. In between there were a whole lot more Canal bass landed on spinnerbaits, but those numbers will be part of the 2022 Canal wrap-up.
Top 5 Notes – Having never fished The Canal in November, every "keeper" was a qualifier for the monthly Top 5. In the end, among my eleven bass landed, nine measured at twelve inches or better. The five heaviest fish came in at a respectable 9-3 for an initial Top 5. Not quite the double-digit weight that I was seeking but there's always next November to gain those missing ounces.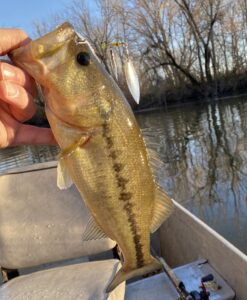 November 25 – last bass of the year
2022 Overall Canal Stats
358 bass in 122.00 hours (2.93 bass/hour)
Top Bass: 3-5 (tie) 4/23 Spinnerbait 8/21 Buzzbait
Best Top 5 Day: 11-3 (2-15,2-10,2-3,2-1,1-6) 6/24/22
2022 Top 5 Canal Weight: 15-15 (3-5,3-5,3-4,3-2,2-15)
2021 Top 5 Canal Weight: 15-6 (3-6,3-4,3-1,2-14,2-13)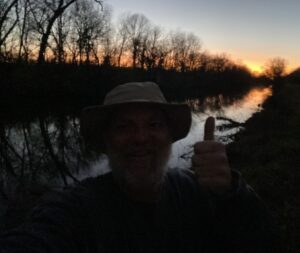 Farewell to The Canal for 2022
The Canal came through in November and a forty-degree December afternoon found me back on the bank in search of any more bonus bass. It just wasn't meant to be as I posted my only shutout of 2022 during an hour of biking, walking, and casting. 2022 was quite a year on The Canal and I look forward to more prowling in 2023. But first, stay tuned for a comprehensive "Prowl the Canal 2022" wrap-up in the new year. Talk to you later. Troy