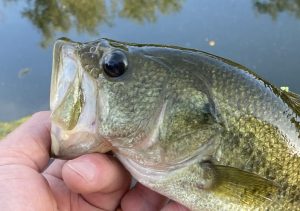 After more than a month away, I was able to hit the canal again on back-to-back evenings last weekend. And the canal education continues each time that I look to fool some of the bass that call the lengthy stretch of water home. Despite a lull to start each evening, the results turned out alright and included the Top Bass runner-up of my short canal "career."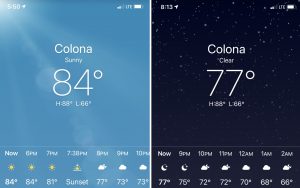 Stats
Date: August 28 & 29, 2021
Location: Hennepin Canal – Henry County, IL
Time: 6:10pm-7:55pm both outings
Weather: Sunny/breezy, 80s
Totals: 11 bass (8/28 – 5 bass, 8/29 – 6 bass)
Lures: 5" Yamasenko wacky rig (various colors) – 10 bass, Mann's Baby 1- crankbait (rainbow) – 1 bass
Top Bass: 3-4 (Senko)
Top 5 Weight: 8-6 (3-4,1-10,1-4,1-2,1-2)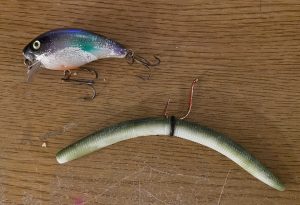 Trip Lyric
"And it was late in the evening, and I blew that room away."
Late in the Evening. Paul Simon (1980)
Notes and Nonsense
August 28 – Following 15 minutes without a bite on some proven spots, I noticed a school of bluegills rippling the surface in a broad opening among the scattered surface vegetation. Several minutes later they all scattered in a hurry, leaving me to surmise that a predator was in their midst. Sure enough, I landed back-to-back bass and four of my five catches in the next 20 minutes.
August 29 – My first stretch only produced one blow-up on a topwater frog as the formerly open water area was nearly covered in duckweed and vegetation stacked up by the current. Plan B was to move to some deeper, open water and the Senko wacky rig was a winner when cast tight to whatever "edges" I could find.
Lessons
1. Last month I noted, "Packing a dipnet along on a canal prowl can be beneficial as you encounter some interesting bank access. The lengthening of your 'arm' can save the day." Well, I forgot to follow my own advice and had to hold my breath as I hoisted a 3-pounder up to my perch along the canal on 10-pound test. While I was successful in landing the bass, I was also lucky.
2. A nice blowup near the bank on a frog got my attention although it didn't get a bass. I was tossing a small, cheap topwater frog and know that I should probably use this presentation more frequently and perhaps a larger bait to make more commotion among the thick surface vegetation. Any advice is welcome.
3. I am still pondering the risk/reward equation when it comes to the limited bank access along the waterway. While some "easy" spots have paid off, I also have my eye on some off the beaten path areas. Poison ivy, hidden holes, sloped edges, and unsteady riprap make for some tough decisions, but the wheels are turning upstairs…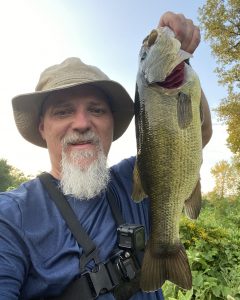 August 29 at 6:54pm. my second largest canal bass to date at 19″ and 3-4 on a Senko wacky rig
The Canal continues to impress and provides a perfect evening getaway that is closer to home than the hour plus drive to my regular Knox County strip mine stomping grounds. I intend to make several more canal visits as the year progresses and hope that you continue to stop by the blog for the latest fishing reports. Talk to you later. Troy