That old saying of "saved the best for last" is certainly up for debate as we wrap up the mid-week revisit of an October Lake Storey outing. What isn't debatable is that I saved the best catches for this final posting, one of which established a new lake record. That bass and more for the finale so here we go.

Lake Storey record chronology – 1988 (Dad 4-6), 1998 (Brent 4-7), 2007 (Troy 4-8) – looks like it's about that time
Record Holders – Thinking back I wish I would've shot a little GoPro footage while Brent and I took shelter and ate our lunches in his truck (which Dad had driven out to the lake for a timely visit). After all, it's not every day that you get three Lake Storey Top Bass record holders hanging out lakeside shooting the breeze about the longtime fishing hole. Then again, some of that discussion would reside in the "Top Secret" category so perhaps better to be off the record.

Pre-trip Facebook prognostication and on the water result
Channeling Nostradamus – Leading into this trip I took a look back through the Lake Storey record book to confirm some of the data on the family bass record from the spot. Turns out there is a general pattern that results in a new record about every ten years. Just for the fun of it I made a bit of a prediction in the Facebook post shown above shortly before heading out from home to try our luck. I've got to say that it was pretty cool for Brent and a bass to make the prediction a reality. Brent had no idea that I had made the predictive post and probably thought I was a little too excited as I awaited the weigh in saying, "Oh man, this is good, this is real good, gotta be 4-9, this could really be good…" Once it locked in at 4-11, I explained my crazed reaction and even made a Facebook update post from the water. Oh yeah, I guess Brent thought it was a pretty cool catch too.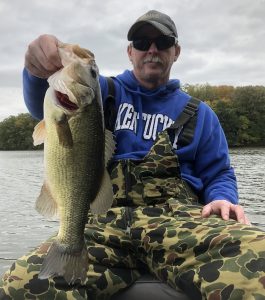 2:52pm – a great way to call it a day as we put our poles away, making this catch the last cast
Last Cast Bass – As our day drew to a close and we neared the boat ramp, I glanced at my watch which read 2:48pm (yes, I still keep time with a watch and not a "phone" but I do take pics and video with a "phone"). I mentioned to Brent that I was good to call it a day if he was okay with trailering the boat a few minutes earlier than our original 3:00pm quitting time. Wisely, he opted to pay one more visit to a nearby laydown and at 2:52pm he reeled in our (actually his) second largest bass of the day at 3-8. Only then did he decide it was time to head for the ramp as what better way to end a stellar day than with a last cast, quality bass.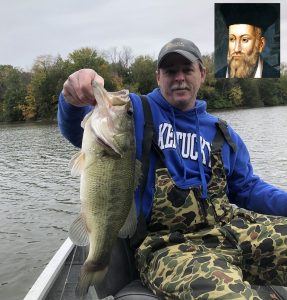 Was the new Lake Storey record actually foretold by Nostradamus? Read on and decide for yourself.
I'll leave you with one odd, final note to close out this whole Lake Storey adventure. After my "prediction" came to fruition, I did a little research (or something like that) on some of good, old Nostradamus' predictions which were typically written in a four line literary form referred to as a "quatrain." Turns out that there's a great deal more of those quatrains that have yet to find any sort of supposed tie to a historical event than those that purportedly do. And by some stroke of luck, while burning the midnight oil during my exhaustive search, I did find the following gem that someone attributed to the legendary soothsayer.
Decade by decade it increases,
Slightly as it goes,
Eclipsed by one who never ceases,
With spinnerbait he throws.
Pretty weird, huh?
Talk to you later. Troy