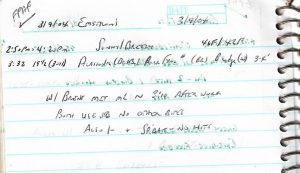 Original log entry from this outing
We revisit Emstrom's Pond for the second Friday in a row and we'll see it again before this whole Flashback project is over. Sooner than you think, really. But it was the kind of place that was worth visiting over and over again during the sixteen years that we had access to the fishing hole.
For today's post we look at an early season lone bass outing on a perfect spot to take a shot at a challenging cold water bite. The pond was barely outside of the Galesburg, IL city limits which was just right for a quick evening hit for an hour or two to try our luck. Here's the scoop from the original report posted in March of 2004.
Although the weather wasn't exactly balmy, the results sure made it much easier to bear as we now have a new "Top Bass" for 2004. As I sat around home on Tuesday (3/9), I debated on whether or not to give Emstrom's Pond a shot. Around 1:00 pm, I decided to phone Time & Temp for weather conditions. I told Julie that if it was 46 degrees or above I was going. Although my temperature limit was just off the top of my head, 46 degrees turned out to be the exact temperature when I called. Therefore, it was time to pack up and go. I anticipated fishing alone as Dad had some stuff going on. However, after about twenty minutes on the pond, Brent showed up. He'd just gotten off work and stopped by Mom and Dad's to see if anyone was fishing.
About a half hour after he arrived we moved in for a closer shot at The Beaver Lodge since our efforts in deeper water hadn't produced any bites. Not long after Brent dropped the anchor, I felt the old familiar tap through the rod blank. As I stated, "There's a hit," I rammed the hook home and was rewarded with a tug back in response. I wasn't sure if I got a solid hookset, but after a few thrashes on the surface I boated my first bass of the year. My concerns on the hookset were unfounded as the jig was completely engulfed and firmly hooked in the top of the fish's mouth. Brent guessed the weight at 4-6 while I went for 3-5. Seems both of us were a little rusty as the fish nearly split the difference, tipping the scale at 3-11. The fish fell to a jig (black/blue glitter) and pig (#23 kicker frog-black). It was our only hit in around an hour and a half on the water but well worth the trip. It was also convenient that Brent showed up to witness the catch. Not to mention he got anchor duty in the chilly water and served as photographer, hopefully producing better results than some of my self-portraits. I'm sure I'll get to return the favor somewhere along the way. Anyway, a great fish for my first bass of the year.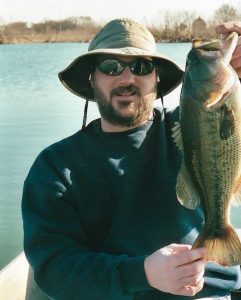 A good start to another year of fishing
Fun to read that things got off to a solid start fifteen years ago, especially since we're still in icefishing mode here in 2019. Quite a winter and definitely ready for it to subside but no such luck with negative low temps returning for the next couple days. Oh well, at least I have the home stretch of the Blog Banner series to provide an escape from the extended bout with Cabin Fever. Talk to you later. Troy