Well, you shouldn't have a fishing recap without a reveal of the fish fooling lures that got it done on the water. 2019 saw me get a little bit more varied in my offerings as a total of ten different lure types came into play in landing 262 bass. And any blogger worth his (or her) salt, knows that a list of ten items is just too good to pass up. Thus, we kick off the 2019 lure recap with the first half of a Top 10 list that works its way to the eventual Top Lure reveal in tomorrow's post. (Note: lure types are ranked by number of bass caught)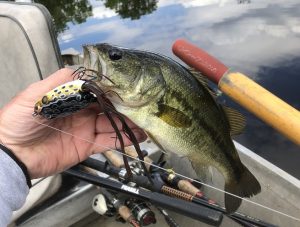 10. Topwater Frogs
Booyah Pad Crasher (cricket frog) – 1 bass
Top Bass: 11" June 11 Knox County, IL private strip pit
Comments: Inspiration for my first frog catch since 2014 came via an email from Top 5 angler, John Kirkemo, as he noted a catch by young Top 5 angler, Landon Hannam. Fun to put the advice to use and always exciting to get one on a frog.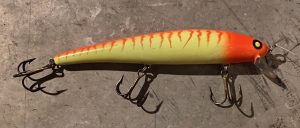 9. Jerkbaits
Bomber Pro 15A (red/yellow) – 1 bass
Top Bass: 10" September 15 Lake Storey
Comments: Me and jerkbaits have had an odd, on again, off again relationship going back to 1997. Lately it has been the "off again" cycle as the lone 2019 catch represents only the third bass on the lure type since 2013. Prior to that, there are nearly 500 bass in the database from 1997 to 2013. Anyway, a stretch of riprap on Lake Storey looked like a winning spot and two casts later, I had a bass in the boat. Not a trophy but always cool when intuition calls for a cast and it works out.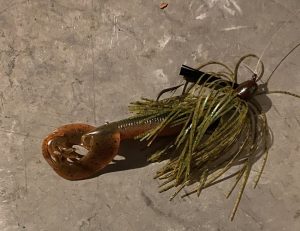 8. Jigs
Strike King Rattlin' Jig (green pumpkin) w/ craw trailer – 10 bass
Top Bass: 16.5" 2-10 April 6 Knox County, IL public strip pit
Comments: I ditched my old favorite black and blue color scheme in favor of green pumpkin to fool this batch of bass during a pair of spring trips to some area public strip pits.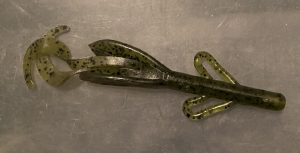 7. Creature Baits
Zoom Baby Brush Hog (watermelon) – 11 bass
Top Bass: 17.5" 2-9 October 14 Knox County, IL private strip pit
Comments: When I slow down…actually, I don't really slow down very much. It's not that I don't like bouncing a creature bait around some cover, it's more like I stubbornly try to find bass that want something fast.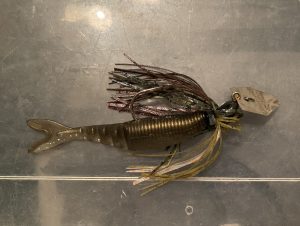 6. Chatterbaits
Z Man Chatterbait (typically darker hues with Zako trailer) – 15 bass
Top Bass: 17" 2-3 April 1 Knox County, IL public strip pit
Comments: I've just never been able to get this type of bait dialed in although I know they are successful. Various area reports, including some from spots I fish, definitely show their value while I struggle or shift gears to other baits. My 2019 haul was the most on this lure since 2007 (21 bass) and the 2-3 represented a new personal chatterbait Top Bass. Certainly room for a boost, maybe 2020?
Five lure types down and five to go as tomorrow's post features a batch of the classic heavy hitters in the bass fishing world. Tune in tomorrow and talk to you later. Troy