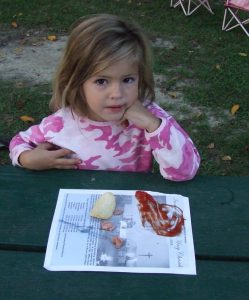 Happy Birthday to our daughter, Helena, who turns 14 today.
Personally, I'm a big fan of the Friday Flashback series that runs weekly here on the blog so I'm sticking with that theme for Helena's birthday posting (the first of several July birthdays).  And this one helps the website live up to its billing of "fun", "family" and "some foolishness."
Today's birthday pic goes back 10 years to a 2008 camping trip. Somehow we forgot to pack the paper plates so the hot dogs over the campfire and Pringles from the can were served up with a dose of ketchup on a recent church bulletin that we had in the van.
The Lord works in mysterious ways, right?
And if you're eating hot dogs and Pringles, anyway…
A favorite pic and story that still bring a smile.
Happy Birthday, kiddo, and love you. Talk to you later. Dad