A New Year's Eve highlight while growing up was something called "The Big 89 Countdown" featured on Chicago's WLS 890 AM radio. The annual rundown of each year's hits ran from 1967 through 1986 with my listening heyday being the mid-70s into the 80s. The countdown would kick off in the evening and run you right up to the midnight reveal of the year's top tune. Awesome stuff for a young radio buff, stat kid and fan of countdowns/lists. Call me a goof, but I actually used to get out the notebook paper and make my own list as the disc jockeys spun the way to number one.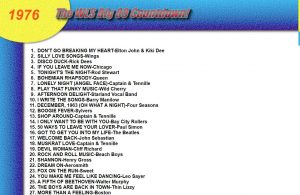 Oh, what a countdown, late December back in 1976…the rest of the archives can be found by clicking here
Here on the blog I have managed to find a way to work in some of those old tunes under the guise of outdoor stuff with a feature that I call "Top 10 Trip Tunes." For those not familiar with the concept, I compile a list of the Top 10 songs that grace the airwaves during the round trip to the fishing hole (typically an hour or so each way). Thus far, these blog postings have racked up a total of 115 tunes (a shorter outing featured only a Top 5) going back to the first go round from a September 2, 2017 outing.
So, what the heck, it's time for some stats as we bid farewell to the old year and welcome the new.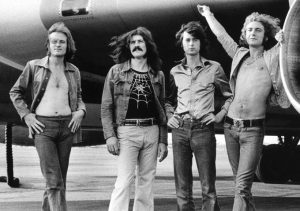 Top 10 Trip Tunes – Top Artists (by appearance)
4 – Led Zeppelin
3 – Blondie
Boston
The Cars
ELO
Jackson Browne
Jefferson Starship
Orleans
Top 10 Trip Tunes – Top Decades
1970s – 77 tunes
1980s – 28 tunes
1960s – 6 tunes
1990s – 2 tunes
2000s – 1 tune
2010s – 1 tune
Top 10 Trip Tunes – Top 10 Years (including my Top Hit)
1978 – 19 tunes (Right Down the Line – Gerry Rafferty)
1975 – 12 tunes (Wish You Were Here – Pink Floyd)
1979 – 11 tunes (Fool in the Rain – Led Zeppelin)
1976 – 9 tunes (The Boys are Back in Town – Thin Lizzy)
1981 – 8 tunes (Watching the Wheels – John Lennon)
1980 – 7 tunes (Stomp – The Brothers Johnson)
1973 – 6 tunes (Reelin' in the Years – Steely Dan)
1977 – 6 tunes (Lido Shuffle – Boz Scaggs)
1970 – 4 tunes (Your Song – Elton John)
1972 – 4 tunes (Doctor My Eyes – Jackson Browne)
1974 – 4 tunes (Killer Queen – Queen)
Okay, I won't keep you any longer as I've fed my music fix for the time being. Kind of fun for me and up for interpretation as to whether it says more about the listener or the formats of my favorite presets on the truck radio dial. Plenty more hits were included along those rides and I suspect that there will be several more batches as the 2019 fishing season unfolds.
For tonight, I suggest that you find some of your favorite tunes, old or new, and crank 'em up as you count down the final hours of 2018. Happy New Year to all and talk to you later. Troy