About this time annually, I begin to ponder the first catch of the year. Not being much of an icefisherman, that means open water and that aspect can vary by about a month from year to year. In the case of today's flashback, I was able to get my first casts in a few days prior to my typical March goal. Below is the original post for the outing as related while blogging on the Heartland Outdoors website. Relying on old blog posts sometimes feels like cheating but it's hard to beat the fresh, original version of the fish story.
Originally posted 2-28-2012
Early season, clear, frigid water and limited time to fish make for what I generally refer to as a "one bite outing." Essentially, I'm looking for one bite, hoping it's a solid hit and counting on being able to execute on my end of the line. I'm certainly not opposed to multiple opportunities but looking at it realistically, other bites would simply be icing on the cake. As pictured below, my one (and only) bite worked out.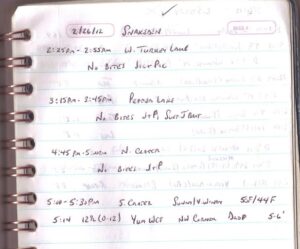 Original log entry from February 26, 2012
Date: February 26, 2012
Location: Snakeden Hollow – various lakes (see below)
Time: 2:10pm-5:30pm (1.75 hours fishing, the rest walking/driving)
Weather: Sunny/very windy
Air Temp: 55F
Water Temp: 44F
Totals: 1 bass
Lures: Yum Wooly Curltail (green pumpkin) – 1 bass (12.5")
Top Bass: 0-12
Notes and Nonsense
Four Targets – Snakeden presents a wide array of options when exploring on foot. So, during the twenty-five-minute drive I usually change my mind several times before arriving at some sort of a gameplan. For this trip I narrowed it down to four rather specific targets.
Target One (2:25pm-2:55pm) – My memory did not serve me too well as a downed tree in West Turkey Lake had deteriorated and was a bit too shallow even for me on February 26. After a handful of casts with the trusty old jig & pig (black & blue) in the deeper water nearby I chalked up my eighteen-minute walk to a waste of time.
Target Two (3:15pm-3:45pm) – A nameless, narrow 100-yard cut that I've named Pepper Lake (another story) features one stretch of deeper water where I hoped all of the 12-16" residents would be stacked. I've seen bass up to two pounds here, but I was just looking for any bite while hoping to put the jig & pig in front of a taker. The "shooting fish in a barrel" concept didn't produce either.
Target Three (4:45pm-5:00pm) – A spot I call the South Crater is a depression about the size of a baseball infield and features a small, sunken fir tree that is partially visible in one corner. Despite being a regular early season producer, it also let me down on the jig & pig.
Target Four (5:00pm-5:30pm) – A downed tree in the North Crater (similar setup to its southern companion) was my last chance and a Yum Wooly Curltail (pictured below) broke up the shutout (described below).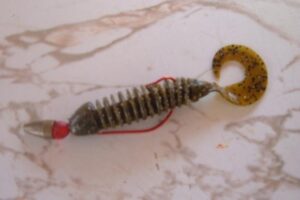 Yum Wooly Curltail, a great cold water bait
Sight Fishing – As I crawled my grub around the downed tree a bass came into view in about six feet of water in front of me. Shortly it was joined by four others, so I gently cast beyond the school, dropped the grub amongst them and then proceeded to shake it in place on the bottom. My initial attempt didn't produce but on my second shot, one of the fish went nose down, picked up the bait and got a surprise (and a photo). Fortunately, I was in a protected area as the windy conditions would have made it impossible to see these fish elsewhere even in the typically clear strip pit waters.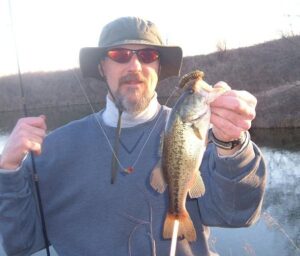 2012 First Bass
"Still the Same" (Different Body Part) – Hearkening back to a blog entry from last year (2011) where I lamented the occasional failings of a forty something body, here we go again. Last August it was a bum knee that prompted me to use the Bob Seger classic "Like A Rock" to contemplate the changes between eighteen and forty-four. Well, the rock legend gives me a hand yet again as I'm "Still The Same" at forty-four only this time around my roadwork/treadmill runs have produced a bad heel that was less than enthused about strip mine terrain fit for a mountain goat.
I always get a kick out of being able to work in some song titles or lyrics in a fishing report, so it is fun for me to revisit these old posts. And speaking of old, the above post is ten years old meaning that by this summer I am going to have to work in a tune that references "55". And yes, I already have one in mind. Talk to you later. Troy