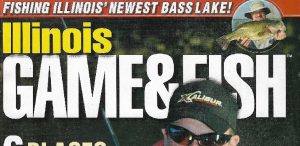 Emiquon and a connection got me and my fish on the March 2010 issue, a 2020 Friday Flashback for next spring
Back in April 2010, I got an opportunity to go public with my writing habit upon joining as a blogger on the Prairie State Outdoors (PSO) website. That gig lasted roughly a year and 169 posts before I moved on to Heartland Outdoors for six years and nearly 600 posts. Anyway, as my "pro" career was launched (made a whole $50 once) I decided to come out with guns blazing which included some catching up on fish stories from the previous year. And this tale was a pretty good one if I say so myself.
Originally Posted 4-21-10 as "A Needle In A Haystack"
On September 2, 2009 as Dad and I rolled down Illinois Route 97 en route to Emiquon he asked, "Would you rather catch one hundred small bass or just one big one?"
Good question considering that during an abbreviated first visit in April, I'd somehow managed to not catch a single bass while being battered by wind and waves for roughly an hour. Although I eventually came to terms with the humbling and humiliating episode, it did leave a bruise on my ego that lasted for a bit. So, while I thought that I'd learned a lesson in overconfidence, my response to his question indicated otherwise as I replied, "Why not both?" Well, if it wasn't for sunset, my wish might just have come true.
About three hours into our trip (5:45pm) I landed a 23.5" bass that tipped the scales at 7-3 . Somehow or another, this large bass just happened to beat the multitude of naïve 12-15" bass to my lure. I don't know the odds, but after several other fruitful days at Emiquon following this trip, it seems like one in a million. In other words, while I'd like to take credit for making some kind of crucial decision, in the end it was just one lucky cast. My new Top Bass eclipsed my old personal best of 5-15 caught at Emstrom's Pond on February 18, 2002.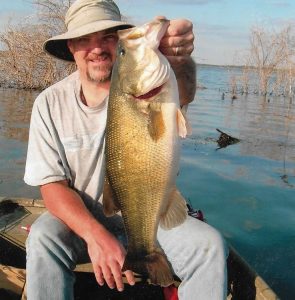 A year one Emiquon trophy and still my personal best 
The fish hit on a Rapala DT6 crankbait (parrot) in a spot where we'd already hauled in well over a dozen bass. Upon setting the hook I told Dad, "This is a good one" although I really didn't know just how good even after a brief glimpse and a powerful run that stripped line from my reel. Then the monster surfaced and truly got our attention. A few seconds later, Dad had the Boga grip firmly clamped on its lip and hoisted it into the boat as I began to celebrate. While I didn't "go Ike" (referring to Michael Iaconelli, 2003 Bassmaster Classic champ renowned for his boisterous vocal outbursts), I certainly can't recall being that excited by a fish for a long time. As I measured the length and fumbled around for my scale we gave our customary estimates on the weight. My guess was 6-14 while Dad said, "I think it's gonna go seven." Not too bad considering that we just don't see bass like that every day, particularly on the end of our line. After the weigh in and a few more celebratory utterances of disbelief (no expletives included even in my euphoric state), Dad snapped a couple photos and the fish was released to fight again.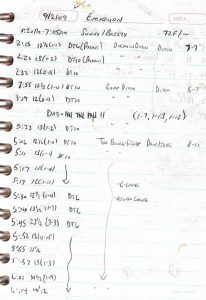 Original log entry detailing a portion of a pretty special day on Emiquon with Dad 
In the aftermath, a few different trains of thought came up in conversation. Dad asked if I'd thought about keeping it and getting it mounted and I must say that it never crossed my mind. Ten years ago, possibly, twenty years ago, probably, but not today (and it's not just because I'm broke). Not that there is anything wrong with keeping a fish that size, it's just more rewarding for me to watch it swim away. Besides, now I know where this fish lives and who can tell what it might weigh if I fool it again this year. If you're interested, just head out from the boat ramp and take a left (north). That's all you get from me unless we're fishing together. Then I'll put you right on the spot and let fate and the thousands of other bass decide if anyone catches it. And that's another thing that's changed over the years, it really wouldn't matter who caught it as I'd just like to be there to share in the excitement one way or another.
I also said to Dad, "I'm sending this one in." I e-mailed a photo to PSO (note: now defunct) and got it posted on the weekly fishing report (9-3-09) along with the basic details of the catch. In addition, I sent the photo and tale to another site that I visit regularly, Larry's Fishing Hole (sadly also defunct), and he elected to add it to his fishing report for September 10th. It's been fun sharing my good fortune and engaging in the age old fishing tradition of bragging even if it is now via cyberspace instead of having a Polaroid in the stack of photos on the counter of the local baitshop.
Finally, I pondered where the bass would rank in relation to the birth weight of each of my kids. However, the best I could do was speculating as after three children the details all kind of run together. I figure that as long as I know when their birthdays are its all good. After doing the necessary research (I asked Julie), the tale of the tape is as follows: Helena (7-4) Bass (7-3) Jayce (7-2) Carly (6-13).
Funny thing is another of the forty two bass we landed was likely more significant than my new personal best. As we completed a rather unsuccessful drift through a promising looking area, Dad hooked into one of the many cookie cutter foot long fish that call Emiquon home. Assessing the conditions where he'd caught this fish, Dad proposed revisiting a nearby spot that was quite similar. We ended up sitting a cast away from a narrow brushy chute that the wind was blowing directly into and started catching bass after bass. And after weeding out some of the smaller ones we wound up with something special. But had it not been for the final bass of our initial drift and some expert analysis on Dad's part, I'd likely have one less long winded fish story.
As we drove home following the rewarding day on the water, I forgave Emiquon. But I couldn't resist feigning some disappointment when stating, "I've still never caught a six pounder." Maybe this year. (Note: didn't actually get that six until 2017)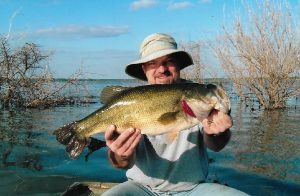 Okay, one more pic, will be tough to top this one even if I get lucky and fool a bigger fish someday
I've said it before but it is worth repeating that I am glad that I took up documenting outdoor adventures. It's always fun to look back and read the details that otherwise would be lost over time. And those parts are just as important, if not more, than the catches, even when one of them is your Personal Best. Talk to you later. Troy