April is a great time for a range of outdoor pursuits. Spring turkey season is on, morel mushrooms begin to appear, and the crappie bite kicks into full gear. Well, for today's flashback, I guess two out of three ain't bad as we head back 15 years with a couple special guests.
Both excerpts below come from an original post simply entitled "Outdoor Update" submitted on May 3, 2006.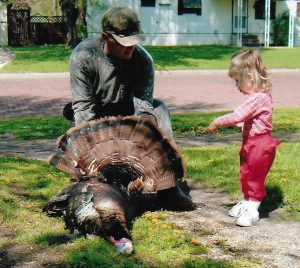 April 27 – Dad called to say that he'd bagged his turkey this morning and wanted to show it off. I was more than happy to oblige although Helena wasn't quite sure what to make of "the birdie." I guess the real thing is a bit more intimidating than what she eats on a sandwich.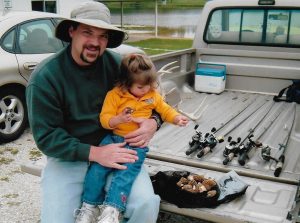 April 28 – I spent two hours mushroom hunting at Little John and found thirteen which is about normal as I must count individuals, not pounds. Julie and Helena came out for a picnic at suppertime, and we played on the swings and merry-go-round. One of us also got rather filthy in the sand. Of course, it was Helena as Julie's not much on getting on the ground these days, as she might not be able to get back up being rather pregnant. As close as I got to playing in the sand was catching one of my two short bass off the beach at Club Lake.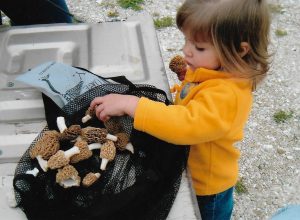 Short and sweet today, just like that little girl on her way to the "terrible twos." Luckily, that phase didn't really materialize as best I recall and suddenly, she's driving a car and approaching her final year of high school. Time indeed flies. Talk to you later. Troy