The struggle continues for 2023 as another trip to The Canal comes up empty. But even though I couldn't get a bass in the boat, there is always something to report and learn along the way.
Stats
Date: March 21
Location: Hennepin Canal
Time: 11:25am-2:40pm
Totals: 0 bass
Weather: Partly cloudy/windy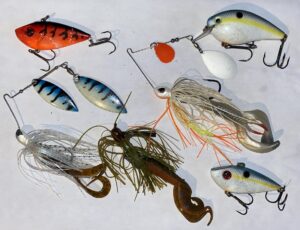 Tossed a collection of lures but couldn't land a bass
Notes and Nonsense
Choices – In the last year and a half, I have fished over twenty different stretches of The Canal from Colona to Wyanet. While The Canal is generally just a long trough, each section has a little something different to offer. Therefore, it can be tough to decide on a destination when it comes time to fish. For this outing, I opted for a quality stretch that I have only fished twice with a boat instead of hitting my best section of water. My hope was to find some willing early season bass before the weeds take over. Well, no bass came aboard but the surface weeds were not an issue. However, the slime was already taking hold as a high percentage of casts required some degree of lure cleanup.
Short and sweet for this report as not much to relay from three hours with only two bites and no catches. 2023 is off to a tough start after landing my first bass of the year on March 5. At that point, I was ahead of my 2022 schedule that saw my first bass join the log on March 20. So much for my optimism as I am now five bass behind last year's production.
On a positive note, I am looking to hit some strip mines in early April and reports of bass biting on The Canal are starting to hit the internet. A pair of hikes this past week on The Canal (without fishing gear) also showed a noticeable increase in observed fish activity along with a thumbs up from an accomplished Canal angler. Sounds like things are looking up and maybe even I can fool some soon. Stay tuned and talk to you later. Troy