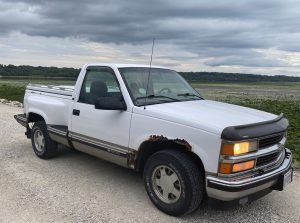 My truck means a lot to me as it came into possession after the passing of my father-in-law back in 2006. Junior Breuer put a lot of miles on that 1998 Chevy Silverado, and I have added over the years with the truck on the verge of 200,000 miles as I set out on this fishing trip. I figured that there was only one way to celebrate the milestone and that was a round trip ride to the fishing hole.
Stats
Date: June 21, 2021
Location: Hennepin Canal – Henry County, IL
Time: 7:35pm-8:35pm
Weather: Partly cloudy/calm
Air Temp: Low 60s
Water Temp: not available
Totals: 6 bass
Lures: 5" Yamasenko wacky rig – 5 bass, Mann's Baby 1- (rainbow) – 1 bass
Top Bass: 2-14 (Mann's Baby 1-)
Top 5 Weight (2 bass at 12" or better): 3-11 (2-14,0-13)
Trip Lyric
"Long may you run, long may you run, although these changes have come." – Long May You Run, Neil Young (1976)
Notes and Nonsense
Back on the Bike – I've got this plan to explore some more of the Hennepin Canal as I have seen reports of solid bass over the years. The historic corridor covers over 100 miles (including a feeder portion) with a decent section within a half hour drive from home. Such makes for a nice weekday evening shot at wetting a line for an hour or so when I can get away. Open shoreline access is scattered which makes for a perfect excuse to get the bike tires aired up, toss it in the truck bed and get some needed exercise along the way.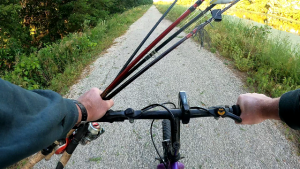 4-4 – On new water, my first goal is to get that one bite to get me on the board and avoid the shutout. Well, it sure didn't take long to get that monkey off my back as I landed a bass on my first cast. And it didn't stop there as I managed to catch a bass on each of my first four casts. It got me wondering if I had ever had such good fortune once upon a time when I played a little baseball. Among the scattered archives I found an affirmation that such a feat took place at least once. The proof from July 13 is below and it sure is fun to reminisce on the names of teammates from a portion of the Hi-Lo highlight recap of the 1986 season.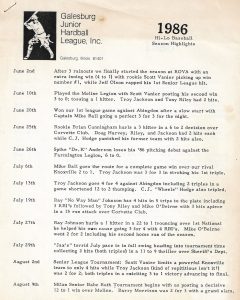 Crooked Bass – Top Bass was an interesting specimen with a stubby, crooked back end. I have caught several odd bass over the years including those with a similar affliction but have yet to determine the cause of the crookedness. On the positive side, the bass was eager to eat, otherwise healthy looking and put up a good fight. Here's hoping it rewards other anglers and leaves them scratching their heads as well.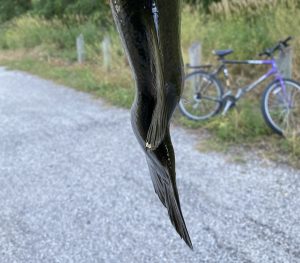 A good hour on the water and mission accomplished on the sunset drive home as I watched the odometer turn. Someday I suppose there will be a post or two in tribute to the old truck but for today I'll leave it as a fishing report. As a fellow fisherman, I'd like to think that Junior would have enjoyed the drive. Talk to you later. Troy