A decent, abbreviated morning on the water across The River in terms of quantity and I also managed to discover a bit about the quality of the fishing hole along the way, kinda the hard way.
Stats
Date: September 23, 2017
Location: Lost Grove Lake, IA
Time: 6:40am-10:10am
Weather: Sunny/calm to breezy
Air Temp: 70-81F
Water Temp: no reading
Totals: 13 bass
Lures:
Booyah Buzz Buzzbait (pearl white chartreuse shad) – 6 bass
5" Senko wacky rig (pumpkin black flake) – 3 bass
Strike King Red Eye Shad (sexy shad) – 3 bass
Strike King KVD 2.5 Rattling Squarebill crankbait (natural pumpkinseed) – 1 bass
Top 5 Weight: 4-10 (1-3,1-2,0-13,0-12,0-12)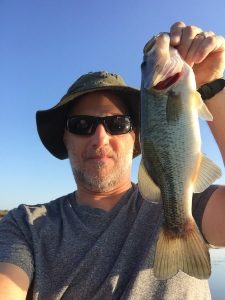 8:03am 13″ 1-2 Buzzbait
Notes & Nonsense
Rough Start – Getting a jump on official sunrise (6:50am), I was on the water at 6:40am, not a soul in sight and re-tying my lures all set to hit a spot where I'd heard a large surface explosion several minutes prior while dragging my boat to the launch. In fact, it was the exact area where I'd landed my personal lake record of 2-3 back on June 20. As I re-tied my buzzbait in preparation for its lead-off role in the lineup, a fellow pulls up in the lot, hops out of his truck and launches his first cast directly at "my spot" about 25' from where I'm sitting. Seconds later the surface erupts and he begins hollering that he's got a good one, which I already know, because I nearly got splashed by the spray (okay maybe a bit of an exaggeration). So, there goes my shot at the fish that I'd heard earlier, had in my sights and was mere seconds and cast away from possibly fooling.
Gut Reaction – This guy's bass briefly hangs in some moss, then dislodges and as he drags it in towards his perch on the bank he continues to provide further details stating that it's a five-pounder. I assure him that I can see it is a good one, adding "Yeah, you beat me to it" then instantly thinking that my comment wasn't really necessary but just kind of involuntary. So, I mentally take a step back, remember that I do not own the lake and that I too know the limitations encountered as a bank angler; time to shift gears and appreciate a fellow angler's success.
Do the Right Thing – I offer to help from the water as the fellow isn't certain about getting the bass up the bank on what he describes as "light line." However, he's got it under control and gets the bass in hand but does request an assist with some pliers. I've got him covered and ask that he meet me a few yards away at the boat launch. As he arrives, he is very excited and can't stop talking about his good fortune as I hand him my needle nose pliers to extract what I now see is a topwater popper. Not only am I impressed with the bass but I'm also starting to get caught up in the guy's excitement over this "five-pounder." As such, I offer to take a picture for him as a fish of this caliber deserves a better shot than a selfie with its angler. He obliges and I snap a pair of shots with his phone. And while I also have a scale on board, I elect to keep it in my tacklebox rather than offer it up for an accurate weight. Having seen more than a few bass over the last 35 years or so, I knew that it would not tip the scale at the five pound mark as seen through his eyes. Not my fish, and not my fish story. Even so, I kind of hope he's telling it as a six-pounder by now.  Kudos to the fellow too for releasing the catch.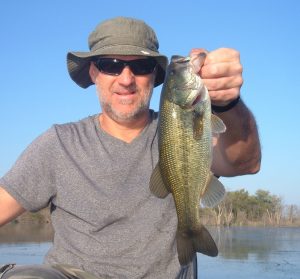 8:22am Top Bass 13″ 1-3 Buzzbait
I also caught a few bass, the Top 5 of which combined may have only barely exceeded the weight of the "one that got caught by somebody else." I suppose I'll spare you many more words and simply let the accompanying pics of my catch suffice for my contribution to another enjoyable and interesting day on the water.
You know, an old fishing standard states that you should "learn something new" each outing. No doubt that I did just that this time around. I gained some insight on the fishing hole, was able to view the pursuit through the eyes of a fellow angler and even discovered something about myself in the process. Oh yeah, I also need to stick with my regular routine of re-tying my lures the night before, won't make that mistake again. Talk to you later. Troy