Well, it sure hasn't looked much like October the last couple days as several inches of snow have graced the West Central Illinois landscape. Not a fan, but hey, at least its Friday so time for another fish story.
Originally posted 11-6-14 with the tagline: "A couple good bites save the day."
I always look forward to the annual fall drawdown on Knox County's Lake Storey.  The Monday after Labor Day is marked on my mental calendar as that is customarily when the plug is pulled, dropping the lake several feet for fishery management purposes.  The body of water can be a tough nut to crack but I eagerly await the challenge each year.  My first visit with Dad back on September 27 was a rough day but didn't deter Brent and me from giving it another shot nearly a month later; here's how it went.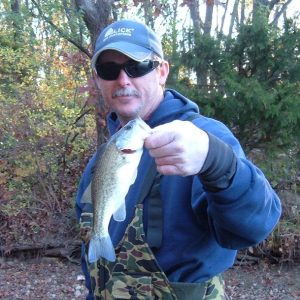 8:59am – Brent posts our first bass on what would be a lean day.
Stats
Date: October 26, 2014
Location: Lake Storey
Time: 7:15am-1:15pm
Weather: Sunny/windy
Air Temp:  40-65F
Water Temp: 55F
Totals: 4 bass, 1 muskie
Lures Troy: Xcalibur XR50 lipless crankbait (chicken pox) – 1bass, Strike King KVD Rattling Squarebill Crankbait (natural pumpkinseed) – 1 muskie
Lures Brent: Emiquon Special spinnerbait – 2 bass, Muskrat style creature bait – 1 bass
Top Bass: Brent 3-11 Emiquon Special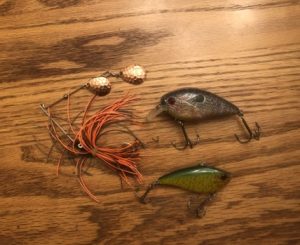 A look at several lures that got the job done
Notes & Nonsense
Crowd – I'm kind of a loner when on the water as I would prefer not having to share with too many other anglers.  I'm not entirely antisocial but like my personal space when chasing bass and that comfort zone could accurately be measured in acres.  However, on this day I was pretty impressed with the number of fellow anglers who were taking a shot at various species.  There were guys chunking monster muskie plugs, run and gun or flipping bass fishermen, drifting and casting panfishermen and at least one bankfishing catfisherman.  We all behaved, gave plenty of leeway and from observation and conversation all seemed to be having a tough day.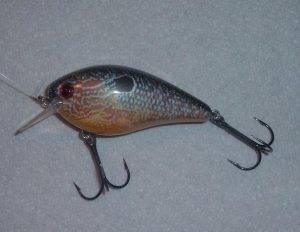 How's this for an inexpensive muskie bait?
Price is Right – In a world of $20+ muskie lures I've found quite a bargain.  My go to muskie bait is a Strike King KVD Rattling Squarebill crankbait in the Natural Pumpkinseed pattern that carries a price tag of around six bucks.  It's got me a pair of mid 30" muskies this year including the latest pictured below.  And if not for some hesitation at boatside two years ago that lead to a break off, I would have landed another that would have easily surpassed the twenty pound mark.  Including the "one that got away" with my crankbait in its jaw, I guess these "muskie" lures have actually cost about twelve bucks.  Still a drop in the bucket compared to the several hundred dollars' worth of muskie stuff I have that I never use.   Of course, each of these fish were bass fishing "accidents" but they all count in my book.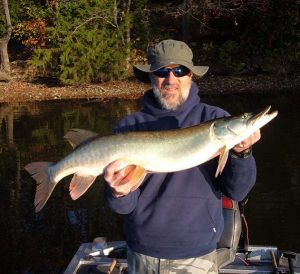 8:35am – my first fish of the day was nearly my only fish of the day
Juice – Our gameplan changed about mid-morning when Brent reported that the bow mount foot controlled trolling motor was not responding well.  Therefore, we switched it over to what is the starting battery for our gas motor as you can't use it on Lake Storey anyhow.  I also had the spare trolling motor on the back with a moderately fresh battery that we use for "long" runs between our targets.  For once the wind was actually pushing us back to the ramp which was a bonus (normally kind of a Murphy's Law thing no matter where we fish).  Being worried about enough juice we wound up skipping several go-to spots and hitting a number of other less inspiring possibilities.  While somewhat disappointing, it probably wouldn't have mattered as it just wasn't our day to get the bass figured out.
10:13am – Top Bass 18.5″ 3-11 on the Emiquon Special
Saving the Day – About midway through our day Brent set the hook on the fish above which would be our lone quality bass bite of the whole trip.   His bass came from an area that features the combination of a fair sized tree paired with riprap that had been catching some morning sun.  The depth was only about 2-3' and shows that you can still get your shallow bites late in the year if the conditions cooperate.  It also shows that his legendary Emiquon Special spinnerbait can produce quality bites no matter where it goes.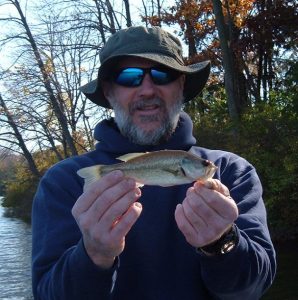 11:35am – narrowly avoiding a bass shutout…very narrowly
Two trips comprising twelve hours of bass fishing on Lake Storey this year produced the meager results of two decent muskies and eight bass including a 1-11 and a 3-11. Maybe not the idea of a good time (or a good day) for some but that's life on Lake Storey as the bass just don't jump into the boat on most days.  No doubt we could have fared better on some strip mine ground which was Plan B for this particular trip if the wind was too much to manage.  But conditions were reasonable and Lake Storey won out as our destination along with winning the battle between bass and fishermen. And I'm okay with that.
While it looks like the snow will leave us alone for the extended forecast, the temps don't look real pleasant. Call me a fair weather fisherman but the whole November bass to end the season thing is looking rather bleak. Talk to you later. Troy