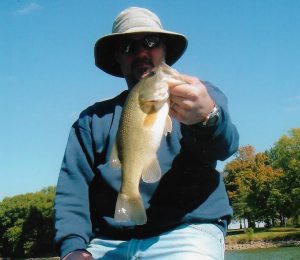 October 2, 2008 12:29pm – Solid Lake Storey Fall drawdown bass at 15″ and 1-12 
Folks, it's Fall drawdown time at Lake Storey, an old favorite fishing hole on the outskirts of my hometown Galesburg, Illinois. Spent 47 years living in The Burg and Lake Storey played a prominent role pretty much the whole way. Camping, swimming, birthday parties, jogging, softball, picnicking, working, playing, hiking, fireworks and even a little something we used to call "parking."
Some stories are better left untold.
But not so for fish stories, so here we go with a flashback from 2008 via some excerpts from the original fishing report.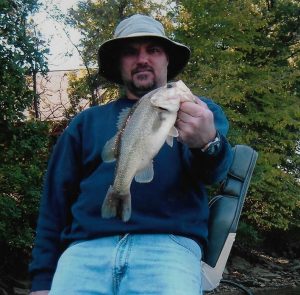 1:20pm – 14.5″ and 1-12
Date: October 2, 2008
Location: Lake Storey – Knox County, Illinois
Time: 8:45am-3:30pm
Totals: 12 bass, 1 walleye (27" 7-14 new personal best)
Lures:
Bomber Flat A (baby bass) – 6 bass, 1 walleye
Zoom Super Hog (watermelon seed) – 5 bass
Quad Shad Spinnerbait (white) – 1 bass
Top Bass: 2-10 Spinnerbait
Top 5 Weight: 8-13 (2-10,1-12,1-12,1,-9,1-2)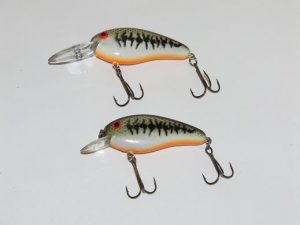 A Lake Storey staple, the Bomber Flat A crankbait (baby bass)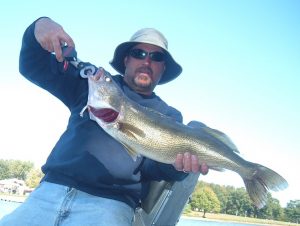 2:09pm – A welcome "accident" with a 27″ walleye weighing 7-14, a new personal best
An added bonus when pursuing bass on Lake Storey is the ever present potential for hooking a toothy fish (walleye or muskie). An "accident" can happen at any time particularly if tossing crankbaits, spinnerbaits, jerkbaits or in line spinners. Dad and I were fortunate enough to land four such "accidents" during a pair of trips as we each caught a muskie and I fooled a pair of walleyes. All of the toothy fish came on Bomber Flat A crankbaits and though our muskies were quite small (20" each), they are always an exciting surprise. The walleye, on the other hand, were pretty impressive. The largest was a 27" 7-14 which set a new species record and easily eclipsed my personal best by more than five pounds.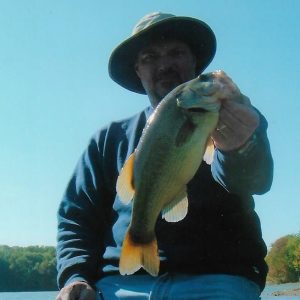 2:55pm – Top Bass of the day at 16.5″ and 2-10
Admittedly, that walleye is what I call a fortunate "accident" while pursuing my favorite fish, the largemouth bass. I will also admit to knowing very little about walleye fishing but sometimes it's better to be lucky than good and as long as you've got a lure in the water you just never know what might show up on the end of the line. In this case, a very solid Illinois walleye that would stand as my personal best for just over two years before another Lake Storey "accident" and a true beast. Perhaps the largest walleye ever caught in Lake Storey, but that's another story for a future Friday Flashback (stick around until 2020 for that one). Talk to you later. Troy