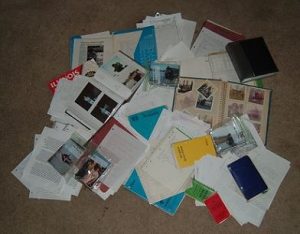 This is kind of what my brain looks like for this project, except a little less organized
In March of 2018 I introduced a series called "Friday Flashback" that featured a weekly revisit of some past outdoor adventures. It ran for 35 consecutive Fridays before wrapping up in November.
Well, it's back.
Same concept as we take a stroll down Memory Lane while looking back in increments of five years. From now through November, every Friday will feature pics and words from 1984 or 1989 or 1994 or 1999 or…on up to 2014. All told, just over 40 mostly fishing related posts to kick off your weekend and perhaps inspire you to grab your gear and go.
And the 2019 version is going to take it up a notch from last year's initial run that featured over 175 photos, more than a dozen guest appearances, two dozen fishing holes, lots of lures and close to 400 bass reeled in along with several other species. You never know what else may crop up and sometimes neither do I as none of the posts are yet composed, only a pile of notes (both mental and physical) and a date on the calendar.
It all begins next Friday with an icy blast from the past which is certainly a fitting start during what has been an ugly and lately dangerously cold winter in my neck of the woods.
Hope you'll tune in.
But wait, that's not all, as I've also got another project to launch that will keep you clicking in between those Friday Flashbacks. You know, we might just get through this winter yet. Talk to you later. Troy