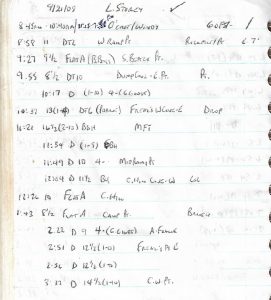 A look back at a blog feature that has since evolved into something I call "Lake Lowdown." Today's flashback includes an excerpt from the original September 28, 2009 post along with the pics of our catches and a few noteworthy peripheral items.
Originally Posted 9-28-09
While my initial "Day on the Lake" feature for 2009 turned into a weather shortened and embarrassing flop at Emiquon this April, our second attempt proved more fruitful. Dad also was a good sport when I revealed that I wanted to give Lake Storey a shot on September 21. However, he did comment at one point that he would have preferred another trip to Emiquon (can't blame him as that place will spoil you). Anyway, for anyone unfamiliar with this annual feature, I document the specifics of every bass reeled in by either angler along with snapping a photo regardless of the size of the fish.
All told, we combine for fifteen bass as Dad edges me out by one fish. I claim Top Bass with a 2-10 but overall Dad lands more quality fish. We manage seven keepers among our catch (Dad 1-10, 1-10, 1-9, 1-0, 1-0 Troy 2-10, 1-4) with our five heaviest tipping the scales at 8-11. The Mann's 4- leads the way with six fish followed by the Bomber Flat A and Brush Hog/Baby Brush Hog (3), the Rapala DT6 (2) and the Rapala DT10 (1).
Notes
Goodbye Old Friend – After hauling up one of my crankbaits from some sort of snag I observed that the eye on the end of my pole had busted off about an inch below the tip. There was a bit of sadness as the rod was an old Shimano Fightin' Rod that represented the last of the original group of poles from my initial foray into the exciting and expensive world of bass fishing. That thing was close to twenty five years old so I had certainly gotten my money's worth, ripping the hooks home for the better part of three decades. Dad mentioned repairing it but it was a rather short rod to begin with at 5'6" so I've decided to just say goodbye. I commented at the time that I should chuck it into the middle of Lake Storey as a fitting final resting place. However, some sort of environmental conscience got the best of me and I hauled it home for trash day instead.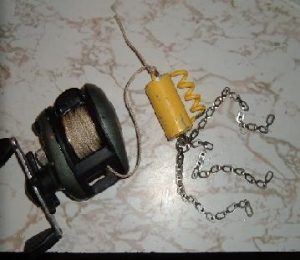 Money Saver – While Dad's Mann's 4- crankbait was the hottest lure of the day, another important tool from my tacklebox also had a starring role. My lure retriever saved our crankbaits at least half a dozen times (a bare minimum of $25 in savings), never failing to dislodge the treble hooks from various submerged snags. Along the way we caught stumps, logs, several pieces of fishing line whose owners need to purchase lure retrievers and even an anchor rope at The Most Fished Tree.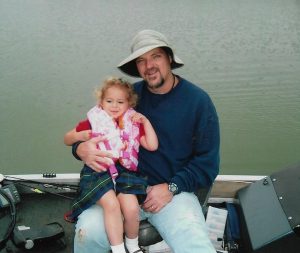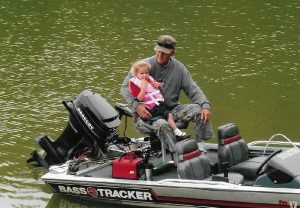 Budding Angler – Regardless of how the fish were biting, Dad and I had plans to reach the fishing shelter at Cannon Hill around 10:45am. Julie was bringing Carly and Jayce out to visit with us after picking up Carly from pre-school. We had a little life jacket ready and Carly took us up on an offer for her first ride in "the big boat" while it was actually on the water (she hangs out in the boat in Papa's garage on occasion). She loved it and at one point inquired about her Princess pole. While we hadn't brought it along I was proud of my girl for wanting to get in on the fun.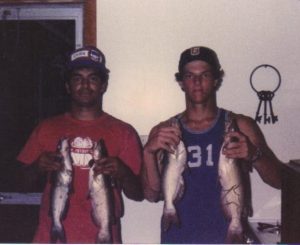 Old friend, teammate, fishing buddy and college opponent, Arnie Gonzalez
Gonzo – During my annual fall visits to Lake Storey, I rarely fail to cross paths with a longtime buddy. Coach Arnie Gonzalez and I have been friends since kindergarten and played high school and Legion baseball together. He's been the head baseball coach at Galesburg High School for quite a few years and teaches an Outdoor Living class which is why I see him (more accurately hear him first) with his students at the lake. It's always good to see him and we had a good visit from boat to bank. Over the years, we racked up many adventures, fishing, sports and otherwise. But one of my favorites will always be a changeup he delivered that looked like a beach ball on a 3-2 count during a Knox-Monmouth baseball game many years ago. After the pitch, we just gave each other a slight nod of acknowledgement as I trotted around the bases. I will admit that he also got the best of me during some matchups, but since this is my story, you'll have to ask him for any details.
Storey vs. Emiquon – After experiencing the unprecedented bass fishing action at Emiquon, it is quite tempting to forego fishing any other body of water. However, Lake Storey does have its merits that draw me back year in and year out. If you listen to some locals, "Lake Storey is dirty" or "has no fish in it." Wrong, big time, but I'm glad that many feel that way because it leaves more fish for me and Dad. From my experience you've got to work for your fish but therein lies the reward. There's an undeniable satisfaction from fooling a 2-10 at the challenging lake that rivals the "got to see it to believe it" feeding frenzy that one can take part in at Emiquon. In addition, every cast made while bass fishing at Lake Storey has the potential for an "accident." There are muskies in there that are scary, I've seen them up close and they get your attention. So will a nearly eight pound walleye like I stumbled upon last October. Granted there are some nice fish at Emiquon but it was pure luck that I got my picture taken with one of them.
Looks like another rainy weekend around here. Dang! Although that didn't get in the way last weekend…Talk to you later. Troy