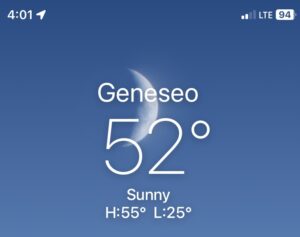 One annual goal is to end the year with a November bass. While the weather has been very favorable, time has been lacking. The time change means it is dark when I get off work on weekdays and the weekends have been busy with family activities. But with one more Saturday in the fifties, I sacrificed a couple hours of yard work in favor of a trip to The Canal.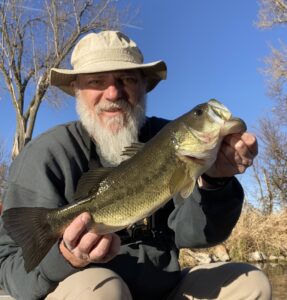 2:20pm- November Bass at 2-2 (17.5″) on a spinnerbait
Stats
Date: November 18
Location: Hennepin Canal
Time: 2:00pm-4:15pm
Totals: 2 bass
Weather: Sunny/windy, 52F
Lures: War Eagle Spinnerbait (chartreuse/white) with Bass Pro Shops Twin Tail trailer (Houdini) – 2 bass
Top Bass: 2-2 Spinnerbait
Top 2 Weight (only two at 12" or better): 3-7 (2-2,1-5)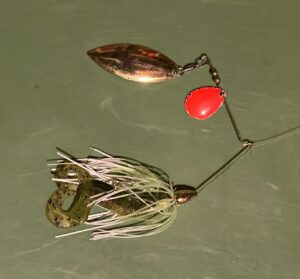 Winning Lure
Notes and Nonsense
One Bite Days – This late in the year with cold water conditions, and typically brief outings, my approach is what I call a "one bite day." I am looking for one bite and anything else is a bonus. I also chose my destination to optimize crossing paths with a bass. On this day, it took me forty minutes of casting to some solid targets without a bite before I reached my specific confidence area. It then took three casts along a stretch of riprap and concrete slab bank with a steep drop, but it worked. Even better was that the "one bite" was a quality fish. Admittedly, it doesn't always work out but it sure is cool when a plan comes together.
No Deer Repeat – Last month, I caught a bass off a dead deer that was floating at the end of an open water area bordered by riprap at the bank and lilypads along the channel. Well, the deer was still there on this outing, but a bass was not. Worth a try every time though, as it makes for a fun fish story when it works out.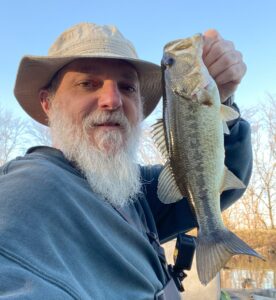 3:35pm – Last Bass at 1-5 (14″) on a spinnerbait
Last Bass – After landing the targeted November bass, the pressure was off, and any other catches represented icing on the cake. Now don't think that I became complacent or anything. I was still dialed in and working my spots, it was just a bit more of a relaxed vibe. The second and final bass of the afternoon also hit a spinnerbait and like the first catch it took several casts to an appealing spot. In this case, it was a small bankside catalpa with a mix of shoreline riprap and a batch of slender, scattered laydowns that was a winner.
Mission accomplished on the November bass, and I was torn on whether to extend my fishing another day with a pleasant Sunday to follow. While I profess that "the best time to go fishing is any time you can", I opted to invest my Sunday in some chores and errands. It's been a very good year and if these are the last two catches, I'm good with the finale. Plenty to write about to recap the year so stay tuned over the "off season" for those stats and rambles. Talk to you later. Troy