Last weekend we took the summer (almost) Lake Storey challenge during a weekend family camping trip. My brother, Brent, and I hit the water at sunrise and my oldest boy, Jayce, joined us as we wrapped up our day. As expected, conditions were quite weedy, but I must say that the water clarity was as good as I can recall being a clear green rather than the normal murky green. And as crazy as it sounds, we were the only trailer in the lot the whole Saturday morning. Read on for the results.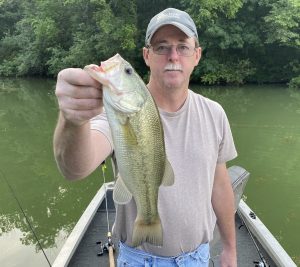 6:30am Brent with our first bass of the day caught on a spinnerbait
Stats
Date: June 12, 2021
Location: Lake Storey – Knox County, IL
Time: 5:20am-12:35pm
Weather: Sunny/calm to breezy
Air Temp: 72-90F
Water Temp: 83-85F
Totals: 10 bass (Brent = 8, Troy = 1, Jayce = 1), 6 bluegill
Lures: 5" Yamasenko wacky rig – 8 bass, Spinnerbait (white) – 2 bass, Waxworms on a 1/16oz. jighead hung from a slip bobber – 6 bluegill
Top Bass: 1-11 Brent Senko
Top 5 Weight: 5-15 (1-11,1-3,1-2,1-0,0-15)
Trip Lyric
"'Cause, Mama, I'm so hard to handle now."
Hard to Handle – Black Crowes (1990)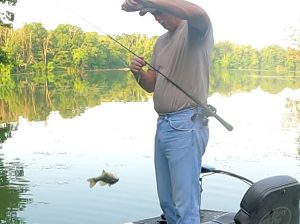 Several fish were hard to handle as seen in this snip from some GoPro video
Notes and Nonsense
Hot Seat – While not technically summer, you sure couldn't tell as it was flat out hot, reaching 90F during the latter portion of our day. If you left your seat for even a short stretch of time, it sure got your attention when you sat back down. Same for my phone as I had to hide it in order to prevent the "iPhone needs to cool down before you can use it" message. You certainly can't be without a phone at the ready on a day when bites are tough as you don't want to miss a scattered photo opportunity.
Slippery Fish – It seemed like the fish were extra slippery on this outing as several got loose in the boat and one unfortunately slipped from the grip while getting a rinse. The latter was Jayce's lone bass that had swallowed the hook on his Senko pretty good. As a result, it was bleeding, so I decided to wash it off before taking a pic. Jayce stated that it was a bad idea and despite what I felt was a good grip on the lip, his bass gave a good shake and swam away. I'm sure the bass was happy, but we had a boat full of disappointed anglers and Jayce threatened to not go fishing we me again. Can't really say that I blame him after my boneheaded move that prevented a pic with his catch. At least we had the catch (and unintentional release) on video that will be posted another day.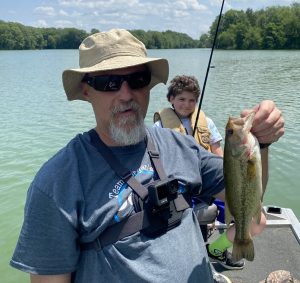 12:13pm my lone bass of the day
Secret Weapon – Many times over the years, we have joked about having a "secret weapon" in tow that we plan to unleash on the fish with stellar results. Sometimes it's an unorthodox or forgotten lure or perhaps a spray bottle of some can't miss scent. In the case of this outing, it was Jayce. During the hour and a half that he spent casting with us at the end of the seven-hour trip, we caught the majority of our fish. Too bad I didn't rouse him from the tent at 4:45am. Maybe next time.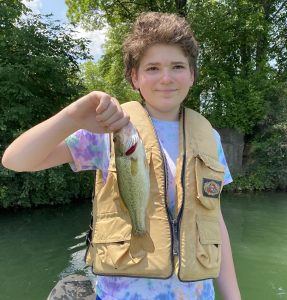 Jayce, our "Secret Weapon" of the day with my bass as I let his get away later before snapping a pic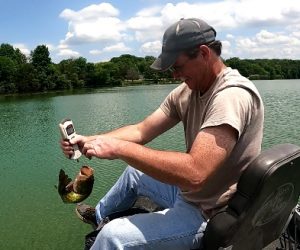 12:28pm Brent with Top Bass of the day as is slips away
Uncle Brent put a whooping on me on this trip. My youngest boy, Zac, had tagged along for a bit of boat ride and he is all about inquiring who is the better angler, his dad, or his uncle. Zac was right on the money on this day with his vote for Uncle Brent. No argument from me although I need to teach Zac about the whole front versus back of the boat excuse. I don't think it would have mattered on this day. Talk to you later. Troy