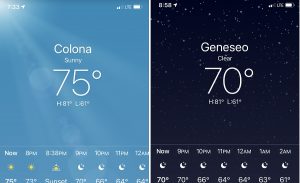 The past week found me on the Hennepin Canal on two occasions as my fishing exploration of the historic corridor continues. Both locales were spots I'd seen previously while on bike rides, but those trips had not seen me wet a line. On the latest trips it was time to bring along the fishing gear to see what would happen.
Stats
Date: June 25 and July 2, 2021
Location: Hennepin Canal – Henry County, IL
Time: 6/25 (7:35-8:50pm), 7/2 (7:40pm-8:55pm)
Weather: Sunny to partly cloudy/calm both days
Air Temp: Mid-80s
Water Temp: not available
Totals: 8 bass (3 bass on 6/25 and 5 bass on 7/2)
Lures: 5" Yamasenko wacky rig (pumpkin with black flake) – 3 bass, Mann's Baby 1- (rainbow) – 3 bass, Strike King Squarebill crankbait (sexy shad) – 2 bass
Top Bass: 2-13 (Senko on 7/2)
Top 5 Weight (only 4 bass at 12" or better): 6-14 (2-13,1-11,1-9,0-13)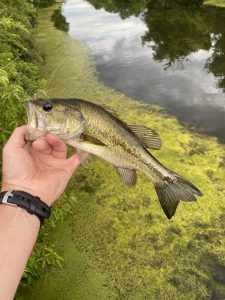 June 25 at 7:35pm – best I could muster, courtesy of a Mann's Baby 1- crankbait
Notes and Nonsense
June 25 – The first stop had a modest amount of open water which can be a tough summer find among the stretches I have checked out thus far. However, bank access presented some challenges which is another standard canal feature. I fished four or five areas of access and found only three small bites.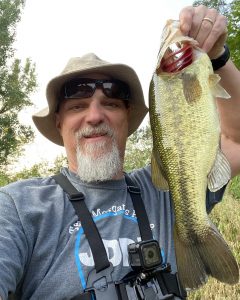 July 2 at 7:53pm – Top Bass at 2-13 on a wacky rigged Senko
July 2 – Several "keepers" were caught from another area featuring a fair amount of open water. In addition, the water had some better depth than most stretches of the canal. This allowed me to toss the Strike King Squarebill crankbait and fool a couple decent fish. But it was the Senko wacky rig which once again came through for the Top Bass of the evening. The 2-13 fell one ounce shy of my canal personal best and further proved that there are some quality bass that call the waterway home.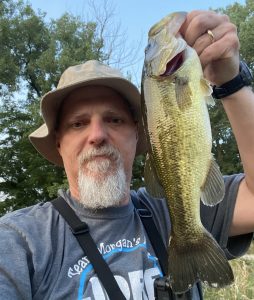 July 2 at 8:30pm – Top Bass Runner-Up at 1-11 on a Strike King Squarebill crankbait
So, what have I learned from my four Hennepin Canal adventures to date?
1. The overall quality of catches has been a pleasant surprise. Previously, I never viewed the local sections of the canal as a regular destination but results and social media posts have opened my eyes.
2. Casting is key as is generally the case in bass fishing. There's lots of vegetation where the bass can hide or wait in ambush, but that vegetation can also ruin a cast with many lures. Accuracy and repeated casts (at varying angles if possible) have been keys to success.
3. A bike is a bonus as stretches of open water can be few and far between at this time of year. Pedaling cuts down transit time and gets you away from the easy to access spots at the scattered parking areas.
4. While I have several topwater frogs in my tackle backpack, I have yet to put any of them to use. Fortunately, my other presentations have kept me busy with bites, but I do need to see if I can entice some quality strikes from beneath the plentiful surface vegetation.
The evening outings have been a fun way to work in a few weekday casts and I have been pleased with the action. There's plenty more water to explore so I suspect that I will be back with some future reports as I continue to "prowl the canal." Talk to you later. Troy