Half of the Final Four will be set following this pair of Region Finals. And a new wrinkle for this post includes a pertinent lyric for each lure. On with the fun…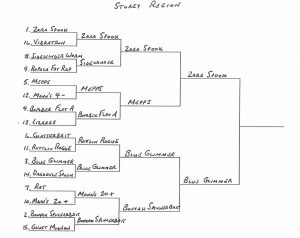 Storey Region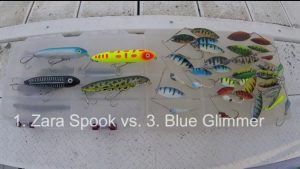 Zara Spook (1) vs. Blue Glimmer (3)
*Lyric (Zara Spook): "It's you and me forever, Zara, smile…"
Zara Smile – Hall & Oates (1976)
*took a little liberty with the lyric and title to make it work
Lyric (Blue Glimmer): "Hey, there, Mr. Blue, we're so glad to be with you."
Mr. Blue Sky – Electric Light Orchestra (1978)
Matchup: Both lures in this battle have seen their heyday, somehow winding up on the bench when it formerly was their time to shine. The Zara Spook has been replaced by a couple other topwater presentations as new lures and new models hit the market. The Blue Glimmer was replaced out of necessity as Stanley Jigs ceased production of the bait many years ago.
Results: Each of these lures scream for a comeback, perhaps 2020 is the year pending how the current national health situation plays out. Even though I have plenty of Spooks on hand versus a lone intact Blue Glimmer bait, the latter is going to gain entry to the Final Four. With the aid of some spare skirts I do have several frames of Blue Glimmers that can be put back in action. Sort of a Steve Austin thing as "we can rebuild it."
Emiquon Region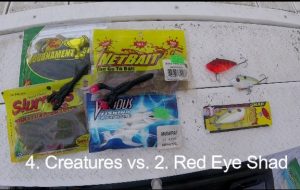 Creatures (4) vs. Red Eye Shad (2)
Lyric (Creatures): "But all the while you hear a creature creepin' up behind, you're outta time."
Thriller – Michael Jackson (1983)
Lyric (Red Eye Shad): "Red! Knock's 'em dead, some like it hot, I like it red!"
Red – Sammy Hagar (1977)
Matchup: Slow vs. fast, finesse vs. power, tortoise vs. hare? Creature baits get real up close and personal with their quarry while the Red Eye Shad calls out to the bass with its rattling and vibration as it blazes through the water column.
Results: Nothing wrong with the old saying that "slow and steady wins the race" as that can certainly be the case with those that comprise the creature collection such as muskrats and craws. But I like to cover a lot of water when I can get away with it and the up tempo game of the Red Eye Shad is right up my alley to win this one going away, don't blink or you'll miss it.
Half of the Lure Lunacy Final Four is now set with a classic set to face a contemporary. Final two regions to come so stay tuned. Talk to you later. Troy