The Monday Top 5 Update is back thanks to the return of one of our young anglers.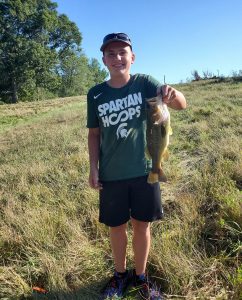 Weight: 2-4
Angler: Landon Hannam
Date: August 21
Location: Private pond
Lure: Jig with a craw trailer
Angler Comments: I had only been fishing for about fifteen minutes and I had made a bad cast and backlash so I was just reeling it in and then the fish hit right up at the bank.
Top 5 Weight: 2-4
Way to go, Landon, and welcome back for 2020. Always enjoyed your reports last year and hope you get a chance to add a few more this year.
Looks like a heatwave on the horizon but the shot at a fall feeding frenzy will be here before we know it. Warm or cool, keep sending me those fish when you get out there and get some bites. Talk to you later. Troy