Well, it's that time again as I ponder whether I have caught my final bass of the year. Today we look back five years at just such a catch via a portion of the original fishing report posted at a former blogging gig.
Originally posted 11-13-15
Mission accomplished in logging my November bass.
For more than a few years now, one of my annual fishing goals involves the bookends on the bass fishing year. This particular goal consists of landing my first bass in March and my final bass in November. Back on March 21st I checked off part one of the goal and set out last Saturday looking to put the finishing touch on a solid year. Well, it took some work but I made it…just barely.

Stats
Date: November 7, 2015
Location: Little John Conservation Club (2 lakes)
Time: 9:35am-3:15pm (4.75 hours fishing, the rest relocating)
Weather: Sunny/very windy
Air Temp: 46F-54F
Water Temp: 50-52F
Totals: 1 bass
Lures: ¼ oz Jig & Pig (black/blue) with #11 pork trailer (black/blue) – 1 bass
Top Bass: 2-2 (Jig &Pig)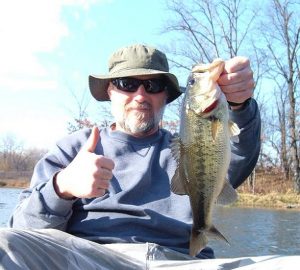 1:29pm – Top Bass (and only bass) at 16.5″ and 2-2 on a jig & pig
Notes & Nonsense
One for Two – For my Grand Finale I selected a pair of lakes that have been real friendly this year and most recently combined for 23 bass back on October 24; this time not so much. 9:35am until 11:50am on the first spot produced one lone bump on my Yum Wooly Curltail Grub as it bounced off a submerged limb. Stop number two gave up my lone bass on a jig and pig just over an hour into my hour and a half on the lake; the only bite I had. Of course, I tried fast with no success on a spinnerbait and lipless crank before opting to focus on slowing it down with the jig and pig around some real solid wood cover. I gave it my best shot and got my fish but the bass would rightfully be claimed the victor on this outing in outsmarting each of my attempts to garner some bites.
Winterizing – I had to chuckle as I headed for the "ramp" on my last lake knowing that it was time to think about the care my gear needs to weather the winter. Dragging my boat back up the grassy incline I took into consideration that trailering my watercraft typically involves just me and my truck bed. Roll the boat over beside my driveway upon returning home, close the tailgate and call it good. As for my motors, lean the oars up against the wall of the garage next to my poles and tackle. Looking back over the 51.50 hours I got to go fishing this year, the vast majority involved manpower for propulsion. Seven hours in a friend's boat back in April were the lone gas powered means of propulsion and only a few quick jaunts from spot to spot. Along with that trip I also spent just over five hours with my foot on a trolling motor pedal during an outing with Dad. The remainder of my season found me manning the oars for about 35 hours and chasing bass on foot for about four hours. I guess the moral of that story is that I need to work on taking care of myself over the winter, something I've let slip more than a bit this year.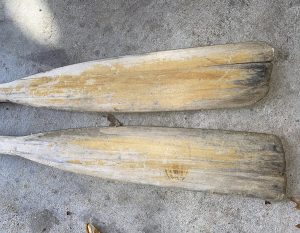 The old oars have what I call "personality" and plenty of tales to tell
Five years later, the old oars have assumed their place against the garage wall where they will likely remain until next March. And my body and brain will once again engage in their annual debate on what sort of fishing stunts to pull in 2021. May have one more fishing trick up my sleeve for 2020, though. Time will tell. Talk to you later. Troy