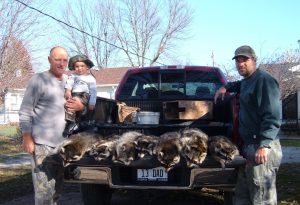 Once upon a time, we were trappers.
For nearly a century, members of the Jackson family roamed the creeks, fields and timbers of West Central Illinois in pursuit of furbearers. Dating back to my grandpa George to my uncle, Richard, to my dad, Terry, to my brothers and sister and our offspring, the tradition spanned from the 1920s to just a few years ago. Boy, did we have some times and there are plenty of stories that never grow old no matter how many times they are revisited.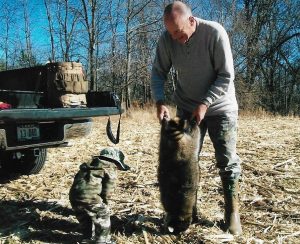 Today's flashback is one of those stories as November of 2010 featured the introduction of a new trapper to the family tradition. My boy, Jayce, tagged along on this outing to Henderson County, following in the footsteps of his Papa and Dad. Footsteps that had been planted in areas like The Big Timber and Pat's Creek for close to fifty years. A pretty cool adventure for a kid who was not even a year and a half old at the time.
We saw tractors, hedgeballs, corn cobs and deer. We had a fast food breakfast, drove the truck, rode on the tailgate, told stories and threw stuff. You know, all the normal things us trappers observed and did out there on the trapline. Oh yeah, we also caught a few coons but that was just icing on the cake.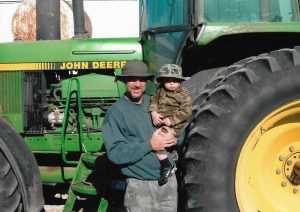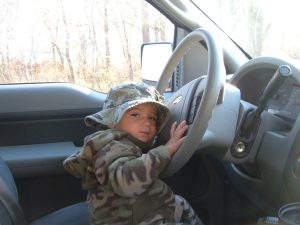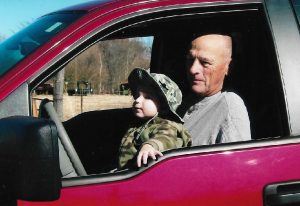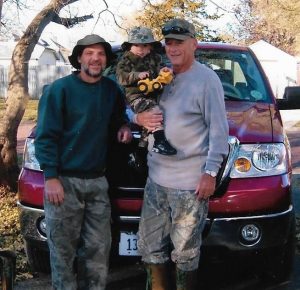 Nowadays, trapping has gone by the wayside but the memories last a lifetime. For many years, I have pondered a formidable trapping retrospective here on the blog. At present though, the project consists of a lengthy list of ideas, a healthy batch of photos and a collection of rough drafts. Perhaps trapping season next year would be a worthy time to kick off such a series. That gives me slightly less than a year to put it all together which is still a tall order when thinking back over all those tales and adventures.
And speaking of thinking back on adventures, this will wrap up the weekly Friday Flashbacks for 2020. As always, I get a kick out of the strolls down Memory Lane with a fair collection of fish, family and friends. I hope that some were able to make the weekly stop and find a brief escape along the way. Of course, plenty more other stuff to come here on the blog before we say so long to this year. And Friday Flashback will resume after the first of the New Year as I have already begun constructing my outline of weekly posts. Talk to you later. Troy