Thirty years ago, I was happily employed at my first real job at a place called National Seal Company in Galesburg, Illinois. The work schedule consisted of four twelve-hour days followed up by four days off. It was like having a vacation every week. Pretty outstanding and definitely my favorite schedule in all the years of earning a paycheck.
So, what does a twenty-something guy do with a batch of perpetual four-day "weekends"?
Well, as exemplified by today's post, there was some fishing involved. In this case, I hooked up with a couple fishing partners who were still attending Knox College, Mark Junk and Joe Lang. I'd known Mark since high school while Joe was a friend made while attending Knox. Both were also sports teammates along the way. Mark and I were Silver Streaks hoopsters (his career considerably more impressive) and later played a year of hardball together for Hi-Lo Grocery. Joe was a fellow Siwash as he covered the catching duties while I manned the hot corner 90' away.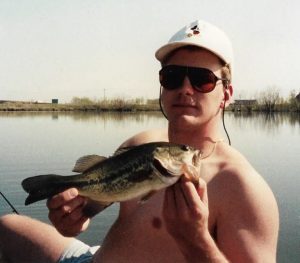 "Geek" at Emstrom's Pond
As with many teammates over the years, there were often nicknames thrown around more than given names. These guys were referred to as "Geek" and "Clubber" for Mark and Joe, respectively. In turn, I was usually "TJ." I haven't crossed paths with these fellows for quite some time, but I suspect we would greet each other in the nickname fashion all these years later.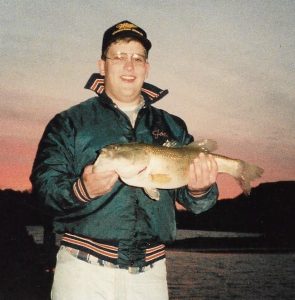 "Clubber", sunrise lunker at Snakeden and I believe we had stayed up all night goofing off and thought, "Hey, let's go fishing!"
The shots from May 7 were at an old pond we called "Emstrom's", just off the Highway 34 exit ramp onto Main Street near the Galesburg Drive-In. May 10 and May 17 were at Snakeden Hollow during only its second year of public access. Looking at the backdrops in the photos it is also fun to see how the scenery has changed all these years later.
Good times, good friends, and some good fishing holes. Talk to you later. Troy