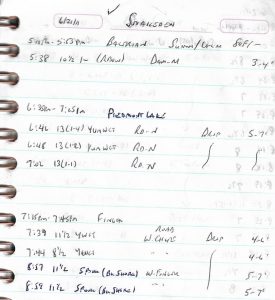 An evening walk through Snakeden was my kick off to official summer 10 years ago this week.
Originally Posted 6-24-11
Hello, my name is Troy and it's been thirty-three days since my last bass.
Life's busy.
.
My last bass came on May 19. In the meantime my family has enjoyed at least a half dozen doctor visits (all simply checkups), two visits apiece to the eye doctor and dentist, pre-school graduation, a week of Girl Scout day camp, a bridging ceremony for Daisies and Brownies, weekly story time at the local library, three birthday parties, a wiener roast, a tumbling review, a magic show, an afternoon at the pool, an abbreviated camping weekend and I'm sure several other things that I've forgotten. In addition, there's always laundry, meals, dishes, groceries and so on. But it sure beats work and often leaves me wondering how there's any time left for a job anyway. Somehow, I also manage to find time to blog or at least live vicariously through the fish stories of others on the website.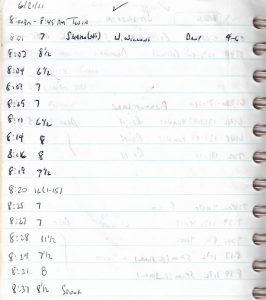 However, I did manage to kick off our strange early summer with a solo walk-in trip at Snakeden Hollow. Quantity was good as I just wanted to get back on track, but quality wasn't so great. But as always, I shoot some pictures to accompany the words.
Stats
Date: June 21, 2011
Location: Snakeden Hollow – various lakes
Time: 5:10pm-9:35pm (3.5 hours fishing, the rest walking)
Weather: Partly cloudy to rainy to sunny/very windy
Air Temp: 80-85F
Water Temp: not available
Totals: 24 bass
Lures: 5" Yamasenko (natural shad) wacky rig – 15 bass, Yum Wooly Curltail (green pumpkin) – 5 bass, Zara Spook (black shore minnow) – 3 bass, Mann's Baby 1- crankbait (autumn sunfish) – 1 bass
Top Bass: 1-15
Weight (only 4 bass > 12"): 5-6 (1-15, 1-4, 1-2, 1-1)
Chronology
4:55pm to 5:10pm – Walking to my first stop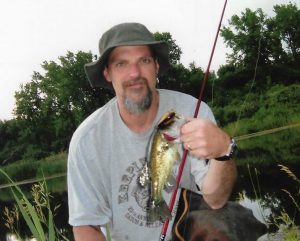 5:38pm – first bass, Mann's Baby 1- crankbait
5:10pm to 5:55pm – Fished a nameless lake and landed my first fish on my somewhat new Cherrywood rod while tossing a Mann's Baby 1-crankbait at 5:38pm.
6:00pm to 6:30pm – Tried my luck on a couple other nameless lakes with a Spook and the crankbait but wind and extensive vegetation eventually sent me packing to a more secluded pothole.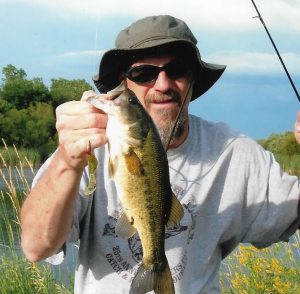 6:46pm – Piedmont Lake bass, ten years later the fishing hole is completely dried up
6:35pm to 7:05pm – A small body of water I call Piedmont Lake gives up a trio of bass in the one-pound range on a Yum Wooly Curltail grub.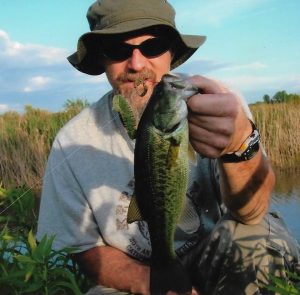 7:39pm – a good cold water lure, the Wooly Curltail, also fools summer bass 
7:15pm to 7:45pm – The Wooly Curltail produces a pair of short fish in a narrow cut at a spot known as Finger Lake.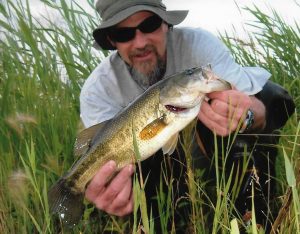 8:20pm – Top Bass at 1-15
8:00pm to 8:45pm – Following a weedy walk I arrive at a numbers lake that I call Upper Twin Lake. Right on cue the short bass start nailing my Senko wacky rig as I get a hit on nearly every cast. Some hook up and some don't but a decent fish eventually beats the little ones to the bait and takes Top Bass at 1-15. It's the second largest bass ever caught on the lake trailing a mysterious 5-2 from 1995 that keeps me coming back. Before leaving the spot, I try a Spook hoping to fool something a little bigger and get four hits on my first cast without hooking up. Several casts later one of the miniature bass goes airborne on a missed strike and I eventually wind up with one short bass before starting the long trek to the truck.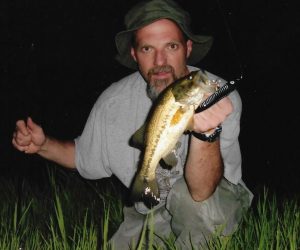 8:59pm – Zara Spook catch as daylight fades
8:57 pm to 9:05pm – I can't resist one more stop at the channel on Finger Lake as the daylight fades. It's perfect for the Spook and I'm instantly rewarded with a pair of fish to end the night.
9:07pm to 9:35pm – Snakeden Hollow is a sizeable piece of property with only peripheral access so you can wind up a long way from your vehicle. Such was the case on this outing as beyond a few stops to swat mosquitoes or switch hands with some of my gear, it took nearly a half hour to get back to the truck.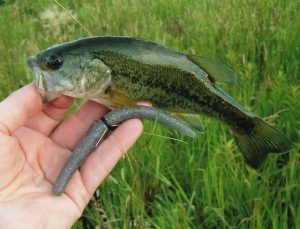 Many fish were like this one as a 5″ Senko was a hit with 7″-8″ bass
In the end it was rewarding to land a couple dozen bass although they were vastly outnumbered by mosquito bites. Upon checking last night, I had seventeen welts on my right arm from elbow to wrist and fourteen on the left. I also had about half a dozen good ones on my neck and a real nice one on top of my left ear. I'm not a big fan of bug spray but my stubbornness may likely give way to common sense should I pull this stunt again. I do have a fondness for bugs, but mosquitoes try my patience. Fortunately, the early night fireworks of thousands of lightning bugs eased the constant harassment of the bloodsuckers. On that topic I was also lucky to avoid any ticks despite wading through some serious weeds a few times.
I need to get back out there as my lone Snakeden hike this year was back in March. Maybe one of these days, stay tuned. Talk to you later. Troy