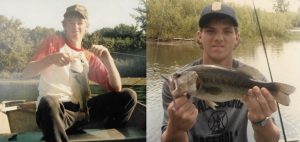 Time flies when you're catching bass as do the many other happenings and events over the last 35 years. But since this is generally an outdoor blog, we'll stick to the "fish stories" behind the pics and the years in between.
Waters – All of the catches in today's post came from Knox County. Our pair of 2021 catches came from Snakeden Hollow, Brent's 1986 bass called Lake Storey home, and my 1986 catch came from a pond located southeast of Victoria. The latter was owned by Les Vicary, who passed away in 2019. It was the lone time that I fished the pond after Dad had gained access from Mr. Vicary via a work connection through their employers, Dick Blick and Consolidated Freightways, respectively. That pond is located less than a mile from my strip mine stomping grounds and I occasionally cruise by the property and reminisce.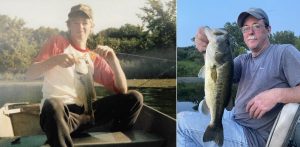 Wardrobe – The fashion statement of a couple teenage boys in the 80s were what we called baseball "sleeves." Over the years, we collected quite a rainbow of colors for various local teams. In 2021, we both showed up with Nike t-shirts although I am personally not a fan. I think I found the shirt somewhere over the years and it makes for good fishing attire.
Watercraft – Separated by many years, that is indeed the same boat in the 1986 Lake Storey picture and the 2021 Snakeden photo. We've rowed many a mile, caught plenty of fish and made a boatload of memories in that old 8-foot johnboat.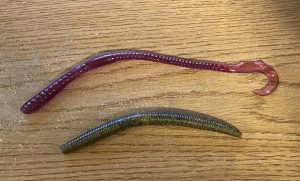 Worms – Two of the four bass in the pictures were caught on plastic worms, my 1986 fish and Brent's 2021. Mine came on a Mister Twister Curly Tail fished Texas rigged. In fact, it was one of the earliest bass that I ever caught on such a setup. The bass at the pond were quite cooperative so I figured it was an ideal classroom to work on such a presentation. Brent's bass came on a more modern rage, a wacky rigged Senko, one of our top offerings. Still hard to beat the old plastic worm.

Technology – We've come a long way as the 1986 shots were taken with a disc camera while the 2021 pics were taken with a "phone." Also cool is the fact that there is video of the recent catches courtesy of a GoPro. While these anglers are arguably not as polished as the legendary fishing host, Virgil Ward, the video quality of those little cameras leaves the 80s in the dust.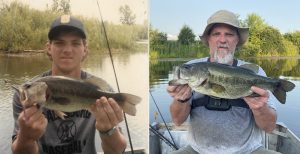 Each of the topics above could fill a series of blog postings on their own but I try not to get too carried away on the Friday Flashbacks. Perhaps another day. Talk to you later. Troy