Well, here we go again, headed into the home stretch of fishing. Read on for the report from exactly five years ago today.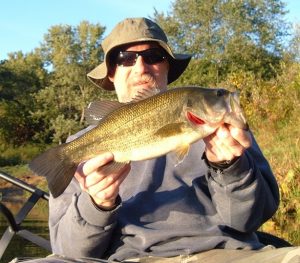 7:52am First bass and Top Bass at 2-6 on a crankbait
Originally posted 10-13-16
The arrival of Fall always brings a mix of fishing emotions. I suppose the romantic term for it is "bittersweet." While hope surges with the remembrance of past successes no doubt aided by the bass strapping on the fall feedbag there is also the realization that my last casts of the year loom on the horizon. The kickoff to the 2016 home stretch as related in today's report got off to a strong start but just never hit its stride. Respectable quantity but not the quality I foresaw after a solid first bite.
Stats
Date: October 9, 2016
Location: Knox County strip mines (4 public, 1 private)
Time: 7:50am-5:00pm (6.50 hours fishing, the rest walking/driving)
Weather: Sunny/windy
Air Temp: 51F-68F
Water Temp: 63F
Totals: 17 bass
Lures: Strike King Red Eye Shad (orange craw or sexy shad) – 13 bass, Strike King KVD 1.5 squarebill crankbait (pumpkinseed) – 2 bass, Terminator Spinnerbait (firetiger) with twin tail trailer (salt and pepper) – 1 bass, Senko weighted wacky rig (electric shad) – 1 bass
Top Bass: 2-6 (KVD squarebill crankbait)
Top 5 Weight: 7-9 (2-6,1-13,1-3,1-3,1-0)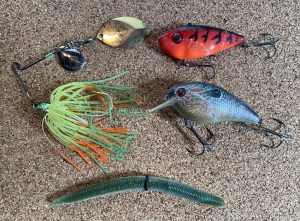 Notes & Nonsense
High Hopes – So, after a 65-minute drive, I haul my boat several hundred yards to my first stop, get my gear in order, set up the tripod, shove off and commence to casting at 7:50am. Running my squarebill crankbait past a meager collection of brush just off the bank about forty feet from the "ramp" it gets nailed and the hookset lets me know it is a solid fish. It's 7:52am and on what is probably cast number five of the morning, I bring aboard my first bass that registers at 2-6. A great start but little did I know that it would turn out to be Top Bass for the day. About an hour later I briefly had a comparable fish hooked on the Red Eye Shad but if it would have bested the first fish it would have been only by an ounce or two at best. However, I still had the entire day ahead of me so at that point I was not particularly concerned as visions of a lunker or two still danced in my head.
Half Hearted Hits – The vast majority of my bass came on the Red Eye Shad which I'm typically reeling at a rapid pace. Nearly every hit was coming at me meaning the fish would just knock some slack in the line as opposed to anything resembling a rod rattling strike. Several of the fish were also hooked on the outside of the mouth as if simply slashing at the bait instead of really going for the kill. Kind of unusual in my experience at this time of the year as fall feeding bass typically mean business. Glad I caught them regardless of the subtle strikes and would like to think that more than a few years of doing this thing added several bass to the ledger that I may not have hooked back in the day. (Note: I do count my catches that are hooked on the outside of the mouth although such catches would not count in some tournament situations, luckily, I'm not good enough to fish competitively.)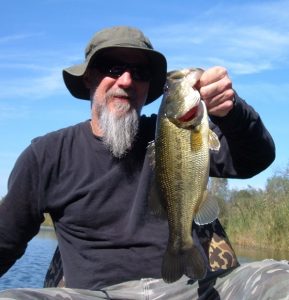 1:55pm Top Bass Runner-up 1-13 on a crankbait
Different Day – Stop number three was a lake that treated me quite well back on September 18 to the tune of twenty-three bass in just under three hours of casting (seven at 12 "or better and Top Bass 2-5). On this day it looked like The Dead Sea, and I moved on after 2 bass in 75 minutes with a 1-13 and a 1-3. Crazy thing is that it is not a particularly large lake with well over 75% being essentially unfishable this time of the year with extremely shallow, dense vegetation while a targeted bowl-shaped area makes up the rest of the lake. This bowl and some deeper pockets in a couple fingers produced all my fish on the previous trip but this time around I just couldn't find them. Such is the game, and I am not ashamed to concede the victory to my quarry. Get 'em next time, right?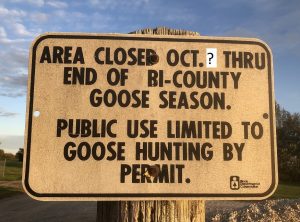 Sounds like closing date is October 18 for 2021
Speaking of Next Time – Like many "Waterfowl/Goose Refuges," a great deal of my water has now been rendered "off limits" for us anglers until the central goose season ends next February. Granted, I've got some other good water to fish and these days I can't swing too many more fishing trips, but…Okay, so no crusade on my part despite losing out on some quality fishing days. After all, these refuges could use a few less geese anyhow, best of luck in putting a dent on the population.
And, so it goes, time is running short for another year on the water. Time flies when you are catching fish. And even when you aren't these days. Talk to you later. Troy