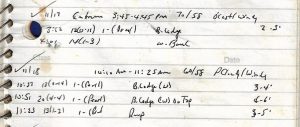 Since the inception of Friday Flashback, we've spent a fair number of Fridays looking back at Emstrom's Pond. Indeed, the first post in the series, back on March 18, 2018, featured the legendary fishing hole.
After all those posts, what more could there be to say about the pond?
Well, thanks to the log entries in the photo above from November 17 & 18, 2001 there are several things to say.
Both entries note that I fished for a brief period. This conveys that the proximity of the pond to where we used to store our little johnboat at my folks' house made the spot ideal for a quick visit. On November afternoons that is important. In the case of the November 17 entry, I was able to get off work at 3:00pm, run by my parents' house, grab the boat, and start casting by 3:45pm. It doesn't get much better than that. Well, except for those years when Lake Bracken was my backyard. But that's another story.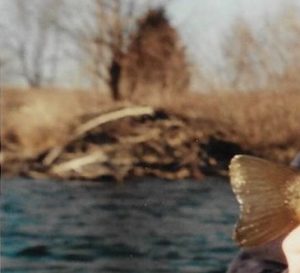 Of the dozens of Emstrom's pics, this is the best I could find that showed "The Beaver Lodge"
When you only have an hour or so to fish like these two log entries denote, it pays to have a good spot. And in the case of Emstrom's Pond, there was a good spot on the spot. As the log shows, that spot was what we called The Beaver Lodge. Such a structure is a good spot about anywhere. But that's another story, too.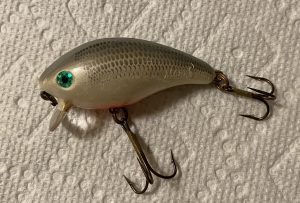 Not sure if this is the Pearl pattern Baby 1- or the Gray Ghost (the latter of which is "another story")
Finally, the successful lure scribbled down in the log is the Mann's Baby 1- crankbait. I have to say that it is odd for the bait to be so dominant in November. However, the conditions noted in the log show that the weather and water conditions were anything bug typical mid-November. Air temperatures at 60 degrees or above on consecutive days and water temperatures in the upper-50s are a late season dream. As always, the bass will tell you what they want, or don't. And if I don't have to slow down my presentations, I don't.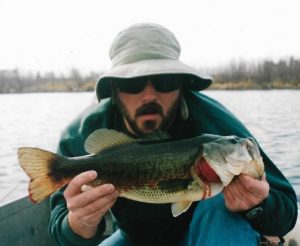 November 18, 2001 – another winner from Emstrom's Pond
The picture above provides solid feedback that I was in the right place on the right water at the right time with the right lure.
That's the puzzle that is fishing. And occasionally, I get it right. Talk to you later. Troy