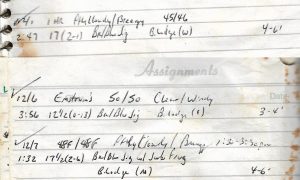 With a final post, this year's Friday Flashback draws to a close. The string of thirty-nine straight scheduled weekly posts hit the blog without a hitch beginning on March 12 and continued through today. A couple Friday posts were delayed until Saturday for important reasons like birthdays or Mothman but I kept up my end of the bargain to relive some fishing memories.
And here we go for one more week, at where else, Emstrom's Pond.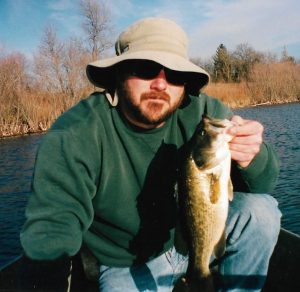 December 1, 2001 at 2:47pm and weighing 2-1 on a black and blue jig and pig
It is not often that I have fished all the way into December. Several factors come into play beginning with weather. In the case of the catches in today's post, some reasonably warm weather pushing into the 50s prompted me to take a shot.
Factor number two is time and responsibilities. Since starting a family back in 2004, I am grateful for the substantial time I get on the water. Thus, once I reach my goal of a November bass, I am content to put away the gear and invest the "free time" as family time. I have never been much of an ice fisherman either. Both factors come into play in accepting that I usually have just over a hundred days between last and first bass.
A third factor is proximity. Emstrom's Pond was an ideal destination as I could be on the water in a matter of minutes when I resided in Galesburg. This late in the year, that is a definite plus as the daylight fades in a hurry and my aim is usually to make a quick hit on the water. In and out in maybe 90 minutes in the afternoon which is typically the warmest part of the day (just as important for the fisherman as the fish).
A final factor is having some good water with the proximity noted above. We were fortunate to have a prime fishing hole with a prime fishing spot in what we called "The Beaver Lodge." It's been discussed before, and you couldn't ask for a better spot to take your chances and wet a line.
The formula for a December visit was pretty simple. Unload the boat from the bed, drag it down "The Ramp", row about 50 yards to the northwest, drop anchor and cast a black and blue jig and pig around "The Beaver Lodge" for an hour or so. The formula was also pretty effective.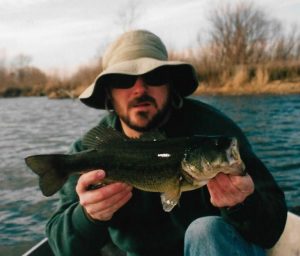 December 7, 2001 at 1:32pm and weighing 2-6 on a black and blue jig and pig
So long from the Friday Flashback for year number four. The plan was to comb the logs and photo albums for fish stories in any five year increment from the current year. For 2021, those tales covered 40 years from 1976 through 2016. This approach would allow me to run the Friday feature for five years. Hard to believe that the final year is on the horizon as we head towards 2022. The spreadsheet is already completed with just over 40 weeks' worth of fish stories, hope you'll continue to tune in. Talk to you later. Troy