Original log entry from 2/18/2002, short and sweet and just short of a lifetime fishing goal
A six-pound bass is a big deal, and I spent a long time looking for one. At the time of today's 2002 flashback, I had roughly eighteen years of sporadic bass fishing experience under my belt with a pair of five and a half pounders as my Top Bass. I'd also been fishing Emstrom's Pond for fourteen years and knew that it had potential as it produced a 6-15 for my brother, Brent, in 1991.
So, when I hooked into the Emstrom's bass below and saw it surface, I knew that I was going to be close to my six-pound goal. As it turned out, you couldn't get much closer as the bass came in one ounce shy of six pounds. Sure, I wished that I could have mustered that one more ounce but putting the bass on the scale a pair of times it locked in at 5-15. Not a six, but it still established my new Top Bass mark.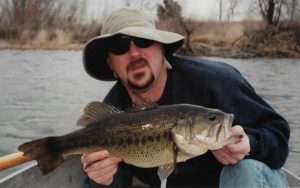 Date: February 18, 2002 (4:00pm)
Location: Emstrom's Pond, Knox County, IL
Weather: Overcast/windy
Weight: 5-15 (22")
Lure: ¼ oz. jig (black/blue) with pork trailer (purple)
Structure: Beaver lodge
It would be quite a few more years before I found my six-pounder. And by that time, I already had a new Top Bass as I found one that skipped right over the six-pound range. Details on those catches to come in a Friday Flashback post next month. Talk to you later. Troy