I always enjoy the challenge of fishing Lake Storey, my "home lake" situated just north of Galesburg, Illinois. And I've fished it for a long time, primarily during the fall drawdown. However, today's post features a successful early spring outing with Dad from ten years ago.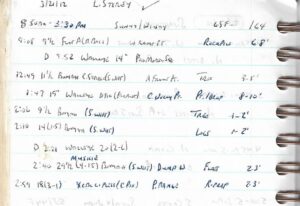 Original log entry from March 21, 2012
Originally posted 3-22-12
I rarely fish Lake Storey other than the fall drawdown as by the time the water warms in the spring the vegetation makes things quite frustrating. Of course, this is nowhere near a normal year, and it was fun (and a little weird) to get on a favorite (and challenging) fishing hole with some clean, sixty-degree water on the second day of spring.
Stats
Date: March 21, 2012
Location: Lake Storey
Time: 8:50am-3:20pm
Weather: Sunny to partly cloudy/very windy
Air Temp: 65-80F
Water Temp: 63-65F
Totals: 5 bass, 3 walleye, 1 muskie (Troy – 5 bass, 1 walleye, 1 muskie, Dad – 2 walleye)
Lures: Booyah Spinnerbait (snow white) – 4 bass, 1 muskie, Bomber Flat A (baby bass) – 1 bass, Strike King KVD 1.5 Square Bill crankbait (sexy shad) – 1 walleye, Rapala DT10 (parrot) – 1 walleye, Strike King Bleeding Bait spinnerbait (bleeding white) – 1 walleye
Top Bass: 3-1 (Troy)
Weight (2 bass > 12"): 4-6 (3-1, 1-5)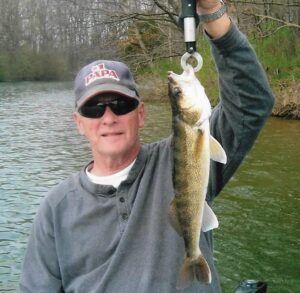 Notes and Nonsense
Walleye World – Dad's first fish was a 14" walleye on a crankbait, one of three we'd combine for on the outing. I'd later pick up a 19" and Dad would take the crown with a 20" catch on a spinnerbait which was kind of odd.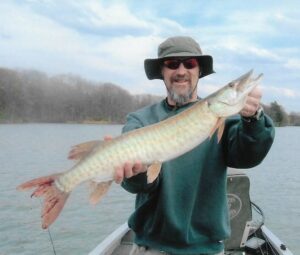 Figure Eight Success – I am not a muskie fisherman, tried it, spent some dollars, enjoyed the challenge but I'm a bass guy at heart. But good, old Lake Storey has her share of surprises like when I alerted Dad that I had a follow. I instinctively did a rather ugly "Figure 8" to no avail, showed Dad with my hands that it was only about 24" and then realized the fish was back looking at my lure as I had yet to lift it from the water. Cue "Figure 8" number two and the fish exploded on my bait. Having about three feet of line out I hit the thumb bar, let the fish run a bit, Dad dipped him up and I had my first ever successful hookup on the crazy, last-ditch technique. Awesome stuff from a fish that somehow was more clueless than the fisherman.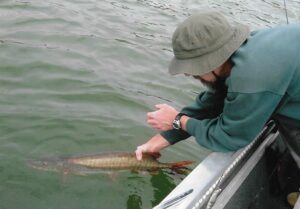 Top Bass – Our final fish of the day came off of a windblown, riprap bank in less than two feet of water. Wind, weather, and water conditions were good but it's still hard to believe we got fish so shallow on March 21. I love it as I'm a shallow guy (in angling parlance only) and a firm believer that there is no such thing as too shallow when conditions are right. The stocky 3-1 bass provided a nice finish to what is always a challenge as Lake Storey can be tough. I'm not "Mr. Excitable" but I couldn't suppress a fist pump as Dad hoisted her aboard with a fine job of dipping.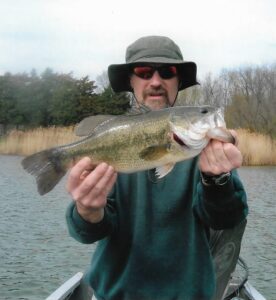 This trip was a perfect example of why you never give up as our last hour and a half on the water produced three bass (two "keepers" although we're strictly catch and release), two walleye and a muskie. I won't pretend that I'm always brimming with confidence; I get down just like the next guy, maybe more. But its finishes like this one that get me to thinking that maybe I have learned a thing or two about this pursuit over the last twenty-five plus years.
In the ten years since this outing, I have not made a spring visit to Lake Storey. After reading this fish story, however, the wheels are turning. Talk to you later. Troy