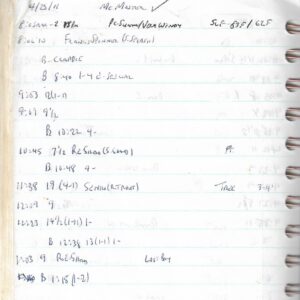 It seems fitting that today's flashback details a windy day on the water as it seems like it has been windy for all of 2022 as well. But if you are willing to fight the weather, the fish are out there.
Originally posted 4-29-12
My brother, Brent, and I originally were considering a trip to Emiquon amid some recent blogging hype but opted for Plan B instead and stayed closer to home. It proved to be the right decision as we don't have an Emiquon worthy boat to handle the 15-20 mph winds that rocked us on the water all day. So, Lake McMaster it was, and here's how it went.
Stats
Date: April 25, 2012
Location: Lake McMaster – Snakeden Hollow
Time: 8:05am-2:20pm
Weather: Partly cloudy to sunny/very windy
Air Temp: 56-83F
Water Temp: 62F
Totals: 13 bass, 1 crappie (Troy – 8 bass, Brent – 5 bass, 1 crappie)
Lures: Frank's inline spinner (Snakeden Splash) – 3 bass, Mann's Baby 1- crankbaits – 3 bass, Mann's 4- crankbait – 2 bass, Strike King Red Eye Shad (sexy shad) – 2 bass, 5" Yamasenko wacky rig (rainbow trout) – 2 bass, Spinnerbait (Emiquon Special) – 1 bass
Top Bass: 4-1 Troy (5" Yamasenko wacky rig – rainbow trout)
Top 5 Weight: 9-3 (4-1, 1-11, 1-4, 1-2, 1-1)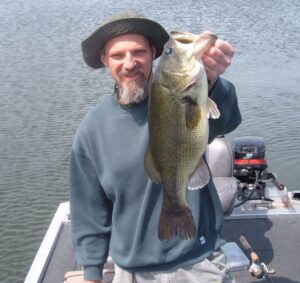 Top Bass at 4-1 and remains our best from Lake McMaster to this day
Notes & Nonsense
New Top Bass – The 4-1 represents a new lake record for family and friends eclipsing a 3-9 from 9/28/10. It hit my Senko wacky rig seconds after it landed near a flooded bush in about six feet of water. A dark shadow suddenly blazed into view from deeper water and essentially hooked itself as all I did was instinctively lift my rod tip and hold on. The bass quickly dove under the motors on my end of the boat and had me concerned about my eight-pound test holding up. It then briefly hung in some weeds before I applied more pressure, and the bass came roaring alongside the boat where Brent was waiting with the dipnet. The octopus hook was lodged in the roof of the mouth of the bass a couple inches back as it had totally annihilated the lure.
Guessing Game – Whenever we land a decent bass, we throw out our weight estimates prior to hanging the fish on the scale. Over the years we've gotten pretty good as evidenced by our "guesstimates" on the 4-1; Brent at 3-13, me at 4-2. Isn't it strange how the guy who caught it guessed high while the dipper went low? I also pegged my 1-11 right on the money later in the day. Perhaps I'm just better at judging the smaller bass as I get slightly more practice with their kind.
Muskie Report – We did see one of Lake McMaster's toothy denizens as I spotted a low 30-inch fish appear next to the boat mid-morning. Shortly afterwards there was fair boil on the surface nearby, but we couldn't raise anything in the spot or elsewhere. However, the wind was once again so bad that we could've been surrounded by muskies in some spots and still not seen them even in the incredibly clear water.
Equal Time – When we launched, we agreed to split up motor duties/front versus back of the boat time. Experience says that the guy in the front typically has the advantage but today may have been an exception as running the bow mounted foot control on the trolling motor was a chore. Thus, the guy in the back got in more casts and had first shot at some fishy looking spots which is generally out of the ordinary. For whatever reason, Brent got the short end of the deal as he was on the trolling motor during the portion of the day where we worked areas more exposed to the strong winds. Things remained civil as we're no longer kids but I did wonder if he was going to tell on me.
A variety of recent weather conditions have been a challenge, and while I'll never tire of matching wits with the bass, I've certainly had about enough of wind, cold fronts, and numb digits. But among the variables in fishing, weather is one you can't control. However, that doesn't mean you can't gripe about it.
Ten years later, the early spring weather has offered more of the same. Talk to you later. Troy