There's an entertaining bunch of young fishing YouTubers out there who pursue various species in spillways around the country. Such posts bring back memories of scaling the slope down to the Lake Bracken Spillway. Tales that date back to my first visit in the late 1970s with several teammates from the Galesburg Little League Rangers.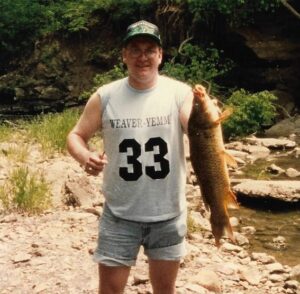 May 24, 1997 – Geek and the Top Carp of the outing at 7-8
But the trip featured today was with another former teammate and longtime friend, Mark "Geek" Junk. We spent plenty of hours chasing the carp that called "The Spillway" home as well as many more hours on other pursuits. Basketball, baseball, golf, darts, concerts, and just a few beers along the way. Many good memories. Some I remember, others are a little fuzzy.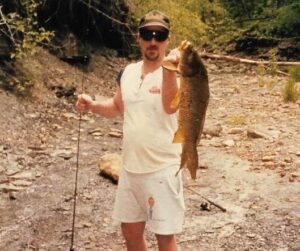 May 24, 1997 – yours truly with a 7-6 carp
Watching the modern Spillway YouTubers, I smile at those youngsters and their pursuits. And as I officially head into fisherman "old-timer" status, I can't help but think that we were doing this sort of thing before most of them were even born. Years of adventures from The Spillway with the likes of Geek, his brothers, Jim and John, my brother, Brent, and Matt "Hack" Reynolds. I must admit that there is a tinge of jealousy at times, wishing that we'd had GoPros and YouTube "back in the day."
But then I come to my senses and realize that it is probably for the best that some of our hijinks were not preserved for posterity. Talk to you later. Troy