Today's Flashback features a trio of guest anglers from five years ago this week. Read on for the original post from June 3, 2017 detailing some local pond fishing.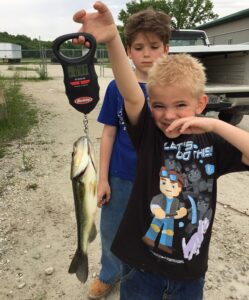 Memorial Day weekend provided great weather and a terrific opportunity to get our young anglers out casting. Two trips with one a smashing success and the other not so much but always interesting with this bunch.
Stats
Date: May 27 and 29, 2017
Location: Henry County, IL pond and Butterworth Park, East Moline, IL
Totals: 5/27 (Jayce & Zac) = 14 bass, 1 green sunfish
5/29 (Carly & Jayce) = 1 bass, 1 green sunfish
Bait: Waxworms on jighead with slip bobbers
Top Bass: 0-11 (two different bass for Jayce and Zac)
Top 5 Weight: 3-2 (0-11,0-11,0-10,0-10,0-8)
Notes and Nonsense
Waxworms – I ended my "Resolution – Kid Fishing" post last month with a word of warning to waxworms and bluegills. Well, the bluegills dodged a bullet this time but the waxworms got a workout. Duh, they're bait, right? On the guys' trip they were also "sacrificed over a cliff," given out as a snack to several bass prior to releasing the catch, impaled on each barb off the two treble hooks on a crankbait and launched into the lake with Zac explaining that they "needed a bath."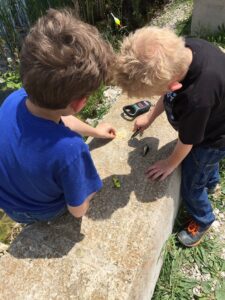 Quote of the day (5/27): "Guess what, Dad? We caught more fish than you, that means we can't go fishing with you for a long time…that's what Mom said." – Jayce (Note: Julie has outfished me, I did say that once and we did go fishing together again several years later.)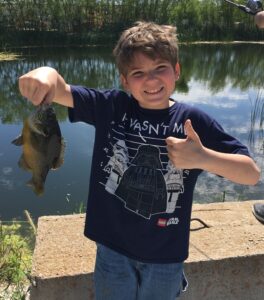 Retro Rod and Reel – An added highlight from the guys' trip was Jayce reeling 'em in with the first rod and reel combo I called my own. This setup dates back to 1984 as prior to receiving it as a 17th birthday gift I utilized whatever Dad had in the shed. It faded from use once I turned into a bass fisherman but still worked just fine over 30 years later for another Jackson boy.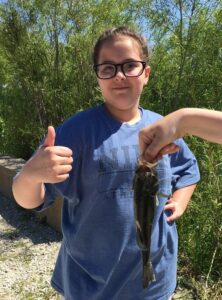 "Shoulda been here yesterday" – A favorite fishing quote tells it like it happens sometimes as Carly learned upon joining up for Round Two at the fishing hole. Me and Jayce laid it on pretty thick after the success of our initial outing and honestly, I was feeling quite confident of a repeat performance. One fish apiece for this pair in about an hour and they'd had enough, pushing to try our luck elsewhere which was even more disappointing at Butterworth Park with zero bites. No matter how long you've chased fish you are gonna run into days where you can't fool them. Just another lesson in the learning process.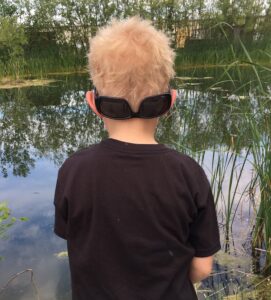 Great to get the kids out even though it wound up with a tough finish. Interestingly, it also started a bit rough when Jayce and I hit the local Walmart to pick up our waxworms. As the checkout lady was ringing up Jayce's bait she says, "So, you and grandpa going fishing?"
Nah, I just made that one up, didn't really happen. Chronologically quite feasible but just hoping that adventures like these fishing outings will continue to keep me young.
We'll see if anybody is up for any casting this Memorial Day weekend. Talk to you later. Troy