Twenty-five years ago, I got to share a boat on the Mississippi River down around Quincy with my girlfriend and her dad. Just over five years later, I would call those fishing partners my wife and father-in-law.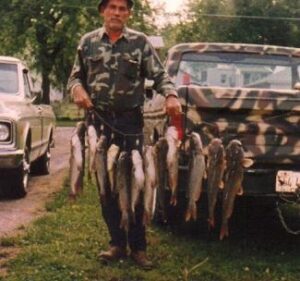 My late father-in-law, Junior Breuer
I don't specifically recall what species we were targeting but I would suspect catfish. However, my log entry from the day consists of two white bass, a freshwater drum, and a largemouth bass. Apparently, our catches were not particularly impressive as I can only find one photo from the outing.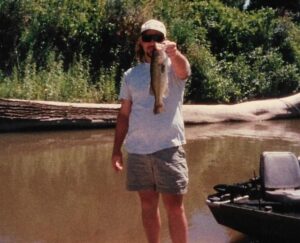 August 5, 1997 with my all-time Top Mississippi River bass
The bass pictured above still stands as my personal best Mississippi River bass in my limited visits to the mighty waterway. It was caught after we pulled the boat up onto an island to get out and stretch a bit. Part of the island featured a channel running through it with an old, downed tree lining one bank. I tossed my dew worm out along the piece of cover, and it barely hit the bottom before I had a fish on. I anticipated anything but a bass to be on the other end, so the catch was a pleasant surprise. It weighed in at 2-4, besting some of the pound and a half river bass I'd landed in the late 80s and early 90s.
The river has always been an untapped resource for me, but I will never forget a mid-80s visit with a baseball friend and his father, Ted and Fred Harvey. Mr. Harvey knew the river well, both as a fisherman and as an accomplished waterfowler. I remember being fascinated as he guided us to a handful of scrappy river bass. I had never considered such bass potential as my view of the muddy river centered around the usual suspects, catfish, carp, gar, and bowfin. It was a real eye opener, and I will forever be grateful to Mr. Harvey for inviting a nineteen-year-old wannabe bass fisherman along for the ride.
Same goes for my late father-in-law, Junior Breuer, for not only letting me tag along but also for allowing me to marry his daughter. Here we are twenty-five years later just over a month from celebrating twenty years of wedded bliss.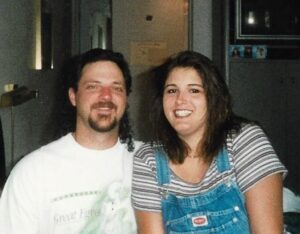 Summer 1997 with my girlfriend and fishing partner, still going strong
Sadly, Junior passed away in 2007 but his memory still goes fishing with me every time I hit the water. After his passing, we inherited his truck, and it has racked up many miles and many bass over the years.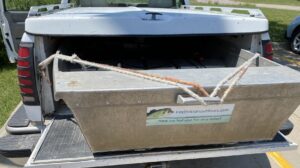 Talk to you later. Troy