Twenty years old, a summer job with the Galesburg Park Department and not really a care in the world. Hit the shop at Lincoln Park just before 7:00am, get our marching orders for the day to mow, pick trash, paint, weed trim and refrain from doing anything dumb in front of the public and then head home at 3:00pm. After that, it was often off to the fishing hole. And what a trio of waters that make up today's "Friday Flashback."
August 5, 1987 – Steck's Pond
Located a few miles northwest of Lake Storey, me and Brent fished this farm pond a few times with Bret Bruington who had access to the fishing hole. Bret (or Little Bru) is the son of Gary Bruington (Big Bru), longtime Galesburg High School baseball coach. Big Bru was not only my coach but also took several ball players on fishing trips while in high school, stoking my passion for the pursuit as he was a knowledgeable bass angler. Anyway, my catches for this day are noted in the original and database log entries pictured in this post. However, I must say that my fondest memory from Steck's Pond was Little Bru, Brent and I landing a few fish on a February day when the line was freezing in the eyes of our poles. Or there was also the time a near four-pound bass spooked out of a weedbed and almost jumped right in the boat. Yep, don't get me started…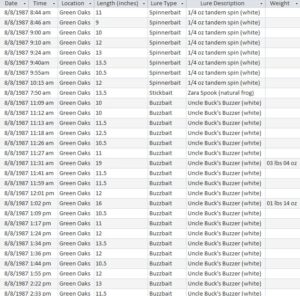 August 8, 1987 – Green Oaks
Weekends were also spent at the fishing hole and weekends were the only days that the Knox College field station was open for casting. Too many stories for a flashback post but a 1988 Green Oaks bass at five pounds eight ounces was my personal best for many years afterwards. I've longed to get back to the fishing hole which is right across the highway from my Little John stomping grounds, but access is restricted to current students, faculty, and staff. However, I recently learned from a reliable source that a fish kill had decimated the bass population and rendered the spot a "crappie hole" per the report. Sad news as it once was a premier destination.

August 13, 1987 – Roehlk's Pond
Like Steck's Pond, Little Bru was our "in" on this fishing hole on the south edge of Knoxville, IL around Eiker Acres. If I were to rank ponds, this one would likely be number one on my list. It had an incredible variety of structure including a pronounced channel, flats, weedbeds, a duck blind, flooded timber, points, a stump bed and an island. And that was just the stuff we could plainly see. Who knows what else was hidden in the depths. My favorite memory from Roehlk's was watching Little Bru pull out ten pounds of bass on back-to-back casts, a six-pounder followed by a four-pounder. I don't know about Brent, but I'm still a bit jealous thirty-five years later.
Original log entries from these outings
It's hard to say how many bass those of us who fished these spots and more all those years ago have landed in the interim. Guesstimation from my totals combined with the fishing habits of just the three of us mentioned in today's flashback, I'd say it would easily exceed 20,000 bass. That's a lot of fish but what is crazy is that to this very day I could walk or row you to the exact spot of all the catches referenced in today's post. Whether that is passion, obsession, or just plain nuts, that's fishing. Talk to you later. Troy