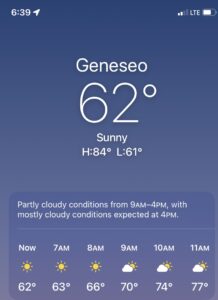 Anglers and excuses seem to go hand in hand, particularly when things don't materialize on the water as envisioned. This was one of those trips where I went in with high hopes that wound up not being realized. Not a bad day by any means but just not as good as I anticipated.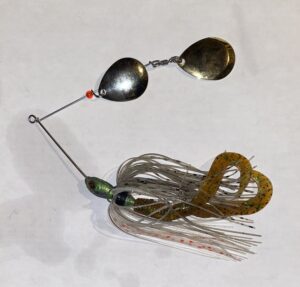 My top lure of 2022 continues to get the job done catching every fish on this outing
Stats
Date: August 27
Time: 6:40am-9:40am
Totals: 8 bass (2.67 bass/hour)
Weather: Overcast/breezy 67-73F
Lures: Strike King Special K Spinnerbait (bleeding shiner) with Zoom Creepy Crawler trailer (root beer/pepper/green) – 8 bass
Top Bass: 1-4 Spinnerbait
Top 5 Weight: 5-7 (1-4,1-3,1-3,1-0,0-13)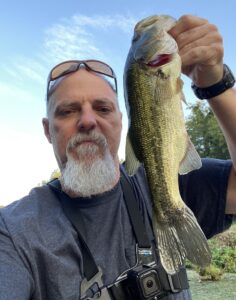 6:54am – Top Bass at 1-4 was the best I could muster
Notes and Nonsense
Water Quality – I continue to be baffled by the changing conditions on The Canal. In this case, it was an ugly influx of duckweed and weedy debris on a section that typically has a clean channel between the varying extent of shoreline weed growth. The floating stuff was not over the top but did foul several retrieves as the clumps of crud were not always apparent when making casts. I guess this debris must come from upstream, but its appearance is still a mystery as we had not had any appreciable rainfall that I would suspect as a contributing factor. Clarity and flow also fluctuate on many pools regardless of rainfall, so I just don't know. A weird place, but I dig it.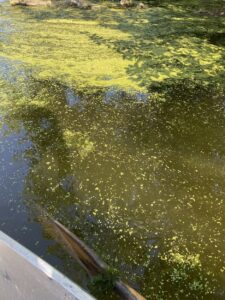 Water quality left much to be desired
Flop on Top – I don't know if the above factors were the culprit, but I could not muster a single topwater bite despite favorable weather conditions. I got on the water not long after sunrise and substantial cloud cover to start the day had me feeling good about my regular buzzbait presentation. Not even a ripple, and after a fair effort, I settled in on the reliable spinnerbait approach around any wood and weed edges.
Too Sunny – As the morning wore on, my cloud cover disappeared as the sunrise topped the tree line. With the general east/west orientation of much of The Canal throughout Rock Island, Henry, and Bureau Counties, sunlight can be a direct hit this time of the year. Nothing wrong with a sunny, summer day in general but I would rather have clouds.
There you have it. The word "excuse" seems like a cop out for a lack of execution or adaptation while on the water, so I won't strictly go there. Instead, I view it as just one of those days. I put in the work to get my bites, but I just couldn't find any quality ones. Whether the weather, or the angler, that's fishing. Talk to you later. Troy