When my family moved to the Quad Cities eight years ago, a new lake in Scott County, Iowa was set to debut after decades of planning. Back in 2014, Lost Grove Lake was still in the process of filling and finally reached full pool the following year. I made my first trip to the fishing hole in June of 2016 and would make a total of a dozen trips from then through September of 2017. My interest in the site then diminished with only four trips in 2018 and 2019 combined. The lake certainly had potential and from current reports, that potential is being realized several years later.
Today's post looks back at a September 2017 outing in the days when I invested in a non-resident license and chased bass across The River.
Originally posted 9-10-17
The three youngest kids took my folks up on an overnight visit and we had nothing going at home, so it was off to Iowa after work to chase bass across the river for the first time since late July.
Stats
Date: September 8, 2017
Location: Lost Grove Lake, IA
Time: 6:16pm-7:46pm
Weather: Sunny/calm to windy
Air Temp: 74-68F
Water Temp: no reading
Totals: 4 bass
Lures:
Booyah Buzz Buzzbait (sexy shad) – 4 bass
Weight (two bass at 12" or better): 3-0 (1-14,1-2)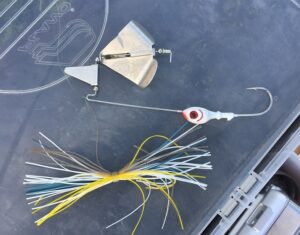 Battered buzzbait
Notes & Nonsense
Plan of Attack – Knowing I only had an hour and a half to fish, there was no exploring or experimenting this time around. Nope, hit all the spots with fast moving baits, a couple crankbait spots, a few Senko pitches at specific targets and otherwise a steady dose of buzzbait on proven areas.
Crankbait Results – I hit my two best crankbait stretches and never got a strike. Weapons of choice were a Mann's Baby 1- (copper) and Strike King KVD 2.5 Rattling Squarebill (natural pumpkinseed).
Senko Results – I pitched the Senko into a handful of targets along with using it as a follow-up bait on a couple missed buzzbait strikes. My targets produced a pair of hookups, but both threw the bait before reaching the boat, tough break but good to see the spots come through (neither was a "keeper" at least).
Buzzbait Results – Less than thirty minutes in, I had three bass on the buzzbait and was feeling good about my prospects for the rest of the short outing. All three of these bass came from banks that were sheltered from the direct sunlight and my home stretch would feature similar conditions once the sun descended behind a slight ridge. Overall, things were setting up well.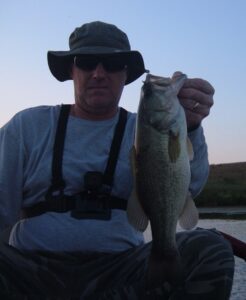 7:12pm – Top Bass at 15″ and 1-14 on a buzzbait
Foiled Again – The 2017 weather on my Lost Grove outings has not fully cooperated ranging from too much sun to a scary storm showing up in a hurry. This time around I plucked a 1-14 from a batch of partially submerged brush on the buzzbait as I began a run through my money spots on the homestretch. The photo shows a light ripple on the water in the background, which was about right for presentation and boat control. By the time I got this bass photographed and logged, the wind kicked up to near whitecap magnitude blowing me in the opposite direction of the ramp. Boat control was shot and buzzbait commotion was negated by the increased wave action. I got a couple missed strikes but no more hookups and wound up with a disappointing stretch run as the darned weather turned on me again.
Even so, it was a decent abbreviated outing, especially as I came awfully close to just staying home for a nap on the couch instead as I'd been beat all week. Can't catch 'em at home so glad I went, posting my third largest Lost Grove bass to date with the day's Top Bass. Also got some GoPro footage as the camera seems to be back in working order after an odd hiccup (or operator error) and a shout out to an unnamed Good Samaritan who helped me lug my boat back to the truck at the end of my day.
No big ones but that was par for the course for my Lost Grove outings back then. I could get decent numbers but not many quality bites. Of course, in the early days, the young lake had a bass population whose members had some room to grow. From what I see these days, those bass have grown up over the last five years. Perhaps I will get back over there one of these years but content at present to continue my learning curve on the hundred-year-old Hennepin Canal. Talk to you later. Troy