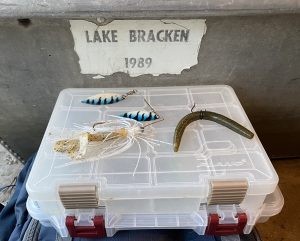 And the winner is…
Blue Glimmer (Storey Region #3) vs. Senko Wacky Rig (Snakeden Region #1)
Matchup: The final pits a couple lures that qualified for a Legendary Lures series that I wrote back in 2012. Ten lures were selected and these two made the list for not only their productivity but also their impact.
Blue Glimmer: The actual name for this bait is the Stanley 3/8 ounce Vibra Shaft Rainbow Glitter Series Spinnerbait in the Blue Glimmer pattern. Like I'm really going to write that in the log book or offer it up as a boat ramp tip in its entirety. Of course, if it didn't produce it wouldn't matter as the lure would have simply faded from use without much fanfare. Or without a nickname. And that's also part of what makes this lure special and worthy of inclusion in the championship match. Beyond practicality, the "Blue Glimmer" nickname also represents a term of affection combined with a thumbs up for a job well done. Oh yeah, it just sounds cool, too, which is, well, cool.
Senko Wacky Rig: Do you know where you were at 7:48am on May 22, 2005? I sure do. South end of Lake Bracken's Snake Island, spinning rod in one hand, first ever Senko Wacky Rig bass in the other (16.5" and 2-5 weight). Fishing with Dad that morning I had a total of four bass on other baits between 5:30am-7:45am when I opted for the Senko out of desperation. When we called it quits at 10:30am, I had sixteen more bass in the log all courtesy of the Senko as I never put it back down. Fifteen years later, I've got it on a rod most every time out once the water warms in the spring.
Result: This one is quite a matchup as these two baits obviously have a lot of history and have made for just a few fish stories. The champ represents a lure that has come to dominate not only my lure selection but also a few others that I know. It's both new angler and kid friendly as my boy, Jayce, has taken a liking to this thing. As a result, it's put a big smile on that boy's face a few times. Of course, those smiles are contagious to this proud dad. Finally, when a lure becomes your generic term for any similar lure or presentation, you know that it has left a lasting impression. Like Kleenex or Scotch Tape, the winning "Senko" refers to the wacky worm approach no matter the imitation. Congratulations to the Senko Wacky Rig for the victory and well done by a quality runner-up in the Blue Glimmer.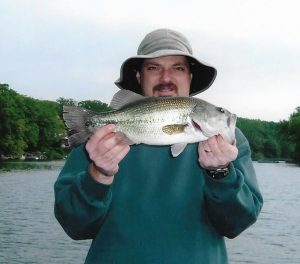 First Senko Wacky Rig bass  7:48am on 5/22/05  – It's not always the biggest bass that makes the biggest splash
It's been quite a ride for what turned out to be a more ambitious undertaking than I initially thought. The original intent was to provide a little distraction from our odd times through an outdoor related substitute for the "real" tourney. And I guess I did just that while getting to tell more than a few fish stories along the way. Even threw in a little basketball lore and some song lyrics to enhance the tourney journey. Sure, it got me distracted from some of the other things that could have been attended to while the world is out of whack. But you only get one shot at such a project without the real March Madness trying to steal your blogging thunder. Well, let's hope so, at least.
Whew!
And talk to you later. Troy