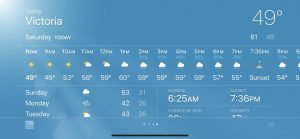 Another belated fishing report as it has been taking a week or so to get these latest ones put together and published. Still trying to get a handle on the upended routine and fortunate to still be putting in a full week of work. Just kind of out of sorts but here you go, better late than never for some new fish stories.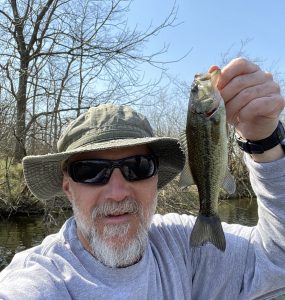 10:31am – First bass as you gotta start somewhere, Red Eye Shad
Stats
Date: April 11, 2020
Location: Knox County, IL strip mines (5 lakes)
Time: 10:15am-5:25pm (5.75 hours fishing)
Weather: Overcast/breezy/light rain
Air Temp: 47-64F
Water Temp: not available
Totals: 29 bass
Lures: Rapala Shad Rap (blue) – 20 bass , Chatterbait (bluegill) – 4 bass, Blue Glimmer Spinnerbait – 3 bass, Jig & Pig (black/blue) – 1 bass, Strike King Red Eye Shad (orange craw) – 1 bass
Top Bass: 2-1 (Blue Glimmer)
Top 5 Weight: (2-1,1-14,1-14,1-11,1-11) 9-3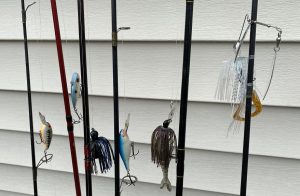 The lures that made the starting lineup for this outing
Notes and Nonsense
Trip Lyric
"You slipped upon the floor and hit your head." – Please Don't Bury Me, John Prine (1973)
If you've ever traversed strip mine territory, you can relate to the care one must take when navigating the steep spoilbanks. With the recent passing of John Prine, a spate of his lyrics have been on my mind as of late. This one came about as I clambered down to a fishing hole. I also had to smile at the prospect of a slip as it brought to mind the final line in the last verse of this very same tune: "And kiss my @$$ goodbye."
Top 5 Bass clip below
Odd Bass – From downright gluttonous to somewhat crooked to just plain strange, a trio of bass landed during this trip were something other than normal.
Odd Bass #1 – First up was a greedy bass looking for seconds on a late lunch. The first course consisted of a crawdad while the second helping was a Rapala Shad Rap.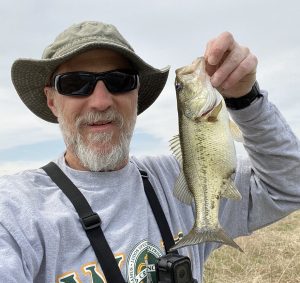 2:24pm – Fat Bass on a Shad Rap
Odd Bass #2 – Next up was a somewhat misshapen bass. This one had a crooked back behind the posterior dorsal fin as the body headed towards the tail. The belly side of the fish was also odd with an abrupt transition to the tail as opposed the more normal taper.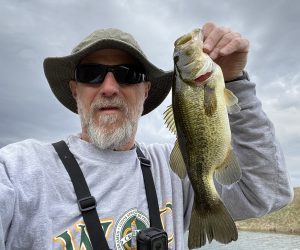 4:19pm – Odd Body Bass on a Shad Rap
Odd Bass #3 – The weirdest bass of the day was rather gaunt looking with a ragged dorsal fin and a notched back. Interestingly, this is not the first such bass that I have caught from this lake as noted below.
Odd Lure – While there's really nothing particularly odd about a chatterbait among the bass fishing crowd, the oddity here is that I actually caught some bass on one. And decent bass at that, maybe I'm finally getting with the program.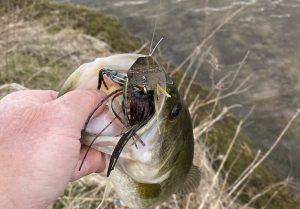 Chatterbait comes through for this stubborn "non-believer" of an angler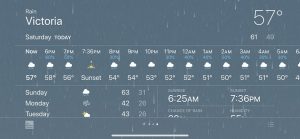 Rain ran me off and I was already pushing late for supper due to a good bite
Lots more stuff in the works as there's just not enough hours in the day. Stick around though as sooner or later I've got some tunes, some attire, some video, some reflection and hopefully some bass from this weekend. Talk to you later. Troy