August 8, 2020 look across Lake McMaster 
On the heels of last week's look at "The Big Lake", it's time to take a closer look at the fishing hole that has since been dedicated as Lake McMaster (click here for that story).
Data (per IDNR website)
Location: Knox County, IL
Directions: South off of Route 167 just east of Victoria, IL (marked with sign)
Size: roughly 165 acres
Maximum Depth: 65 feet
Boat Ramp: Yes
Recreational Use Restrictions: – Waterfowl Refuge or Hunting Area (all use other than waterfowl hunting prohibited from 14 days prior to duck season through the end of the central zone Canada goose season).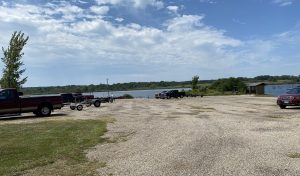 August 8, 2020 look down the parking lot to the ramp
In addition, here's a cool link to some IDNR fishing info specific to Lake McMaster.
https://www.ifishillinois.org/profiles/display_lake.php?waternum=02269
And, for fun, how about some additional Lake McMaster muskie info.
The muskie has long been known as "the fish of 10,000 casts". However, the Illinois DNR stocking program has done much to increase the odds of hooking a muskie before an angler reaches that old mark. Lake McMaster is among the Illinois fishing holes that have resided on the muskie stocking list dating back to an initial IDNR stocking in 1991.
At one point, a 54" muskie from Lake McMaster in 2006 stood as the longest muskie officially recorded in Illinois. My recent search around the internet did not find any catches in the interim that have dethroned that verified catch although I did find another 54" fish reported from Lake County in 2016.
That 54" fish is among at least five 50" muskies to come from Lake McMaster. Per one report, this placed Lake McMaster as third on the list of lakes producing the most muskies reaching the coveted 50" mark.
I'll wrap up our look at Lake McMaster with some recent pics and a little family history.
Certainly an interesting lake and no doubt that there are plenty of anglers out there more knowledgeable than myself who have gleaned more of its secrets. In fact, I have not been on Lake McMaster since 2013 instead choosing to do my Snakeden fishing on the collection of less crowded interior walk-in fishing holes. Perhaps one of these days I will take the plunge to put it back in the rotation.
Plenty more Snakeden stuff to come in future weeks. Talk to you later. Troy