Fifteen years ago this week, I took a few days off of work to focus on some fall fishing. The combination of encountering a potential for a fall feeding frenzy and knowing that the end of another fishing year is near make this period my favorite time to hit the water. This trip to Knox County Illinois' Lake Bracken, which was once in my backyard, did not disappoint. Below are some stats, pics and most of the original fishing report.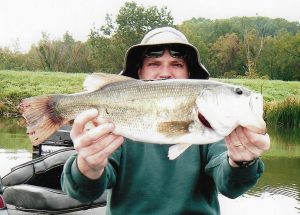 9:13am – Top Bass at 4-2 on a Mann's 4- crankbait
Originally posted on 9-30-05
Day Three provided exactly what I was looking for from my Fishing Vacation. Lake Bracken came through with quality and quantity, as the bass were on a classic fall feeding binge complete with an approaching storm front. It would be tough to find a better time to be on the water during an unpredictable time of the year.
Site: Lake Bracken
Time: 7:10 am – 12:25 pm
Totals: 20 bass
Lures: Mann's 4- crankbait (blue/chartreuse) 13 bass, Mann's Baby 1- crankbait (rainbow) – 6 bass, 5" Yamasenko wacky rig (black) – 1 bass
Top Bass: 4-2 (Mann's 4- crankbait)
Top 5 Weight: 8-15 (4-2,1-8,1-3,1-2,1-0)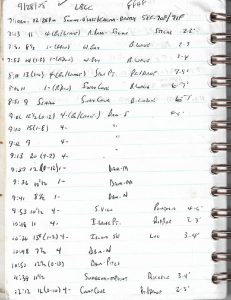 Original log entry from the outing
7:00 am to 8:00 am – My first cast hits the water at 7:10 am and I boat my first bass at 7:13 am along ramp road on a Mann's 4- crankbait (blue/chartreuse). It's a nice 11" fish and I get the feeling things may go well today. Our past few outings on Lake Bracken haven't given up many fish even at some of our "old faithful" spots. This one comes from The Sticks three minutes into my trip and gives a welcome boost to my confidence. The Beaver Lodge in West Bay gives up a pair of bass including a healthy 1-3 and things are looking good as two proven spots produce.
8:00 am to 9:00 am – Three more bass are added to my creel with one each on a Mann's Baby 1- crankbait (rainbow), a Mann's 4- crankbait (blue/chartreuse) and the Senko finally makes another appearance. At 8:11 am, a 13", one-pound bass becomes bass number 100 for Lake Bracken this year. I also lose a two-pounder that throws the hooks after a brief battle on The Beaver Lodge in Spillway Cove. I'm sticking with a run and gun approach as the weather is supposed to take a turn for the worse somewhere around late morning. I'm hoping to hang in until noon and plan to move quickly to a number of proven spots. Crankbaits are the order of the day allowing me to cover a lot of water in a hurry while hoping to run into some active fish. So far so good.
9:00 am to 10:00 am – This turns out to be my most productive stretch of the day as I boat eight bass, seven of which come along The Dam. The crankbait bite is in full throttle as I also add a pair of fish to the record book. The first is a 1-8 while the second comes in at an impressive 4-2. The latter fish bests Brent's 4-0 by two ounces for Top Bass of the month. Needing to share my success, I phone Dad who is on his way to Kentucky with Mom for a fall getaway. I end up talking with Mom as Dad is driving and she relays my results. Despite my success he decides to continue on his vacation rather than come back to get in on the feeding frenzy. However, Dad does mention that it is funny that I have no witnesses to verify my big fish. I guess Walgreen's photo lab will have to back me up as I always bring along my camera. I also call and leave a message on Brent's answering machine to greet him/rub it in when he gets home from work.
I still pack this item along but now primarily use a phone for a camera
10:00 am to 11:00 am – I add four more bass including two over 12", all on my Mann's 4- crankbait. Two of the fish during this hour come on a return trip to The Dam. I figured it was worth a second pass after leaving the fish alone for an hour.
11:00 am to 12:25 pm – Things slow down considerably during my last hour and a half on the water as I only catch two more bass. My final bite comes at 12:12 pm and while the bass is 12" long, it falls just a bit short of 12 ounces. As I reel the bass in I can see the first few sprinkles of rain making their way across the lake towards me. Wanting one more shot at The Beaver Lodge in West Bay, I hope the heavy stuff can wait just a little longer. It turns out I was being a bit greedy and should have been happy with twenty bass instead of going for twenty-one. The skies open up, barely allowing time for me to don my rain gear. I head for the ramp at 12:22 pm satisfied that Mother Nature cooperated as long as she did as the sky looked rather ominous most of the morning.
I sure miss the TracPhone days when my livelihood wasn't tethered to a device
Always fun for me to look back on this stuff that I documented and hopefully it provides a little escape and perhaps some fishing insight for those who invest a few minutes to read. It is also fun to ponder the peripherals of a camera versus today's smartphone along with the reference to getting pictures developed at the photo lab. Much has changed for me in the last fifteen years but many things also remain the same. This flashback featured Dad's old Bass Tracker which will be put to use again this weekend as me and Brent have a trip in the works to a lake I last fished in 2013.
But that's another story. Talk to you later. Troy