Over the past several years, I've had the good fortune of being able to fish a cool Peoria County fishing hole referred to as "The Rock". The owner, Chris, invited me to tag along on those trips with the most recent visit being this past June. On the heels of that trip I finally got up the nerve to ask if I could bring Dad down for a shot and Chris was kind enough to oblige. But after having Chris' experience and expertise as a guide on previous trips I was curious how it would work out when I got to assume that role. Could I get the guy who got me hooked on fishing hooked up to some bass? Read on for the results.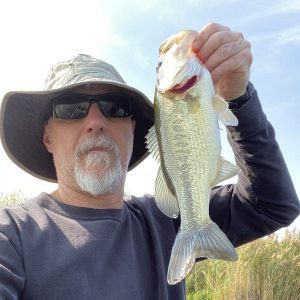 2:52pm – First bass at 14″ and 1-8 on a spinnerbait
Stats
Date: September 20, 2020
Location: Private lake – Peoria County, IL
Time: 2:50pm-6:20PM
Weather: Partly cloudy and varied winds
Air Temp: 71-63F
Water Temp: 69F
Totals: 45 bass (Troy – 29 bass, Dad – 16 bass)
Lures: Spinnerbait (white/chartreuse) – 32 bass, KVD Strike King Rattling Squarebill crankbait (multiple) – 7 bass, Red Eye Shad (sexy shad) – 4 bass, Yamamoto Senko wacky rig (smoke) – 2 bass
Top Bass: 1-11 Spinnerbait (Troy), 1-10 Spinnerbait (Dad)
Top 5 Weight: 7-15 (1-11,1-10,1-10,1-8,1-8)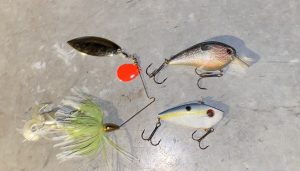 Several of the winning lures along with a Senko fooling a couple
Notes and Nonsense
The Plan – Figuring we had four hours at most to fish, I had five areas in mind to try our luck. We were able to hit four of them and only one was a bit of a bust. Spot one was a bit of a slow start but gave up 6 bass in about 45 minutes. Spot two then produced 9 bass in 45 minutes and spot three resulted in 5 bass in about 20 minutes before our final stop really kicked things up a notch. In our last 70 minutes of casting we reeled in 25 bass for an exciting finale leaving us no time for the fifth area that I had in mind.
Mother Knows Best – While definitely a safe practice, wearing a life jacket is one of those do as I say not as I do sort of things when I am on the water. As we left home, however, Mom made it clear that Dad needed to wear a life jacket the entire time on the water. As you can see from the pics and clips we abided by her instructions. Just don't tell Mom that one of her kids did not follow her directions.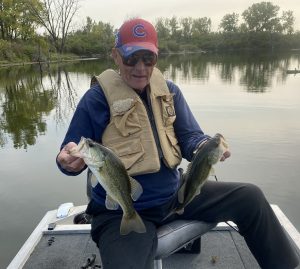 3:52pm – Dad with one of our "doubles" both coming in at 1-4 on spinnerbaits
One That Got Away – No matter where you fish, if you do it often enough, you'll end up with a batch of these tales. In this case, what would have likely been our Top Bass of the day spit Dad's crankbait midway back to the boat. The one that got away would have tipped the scales at over two pounds and represents a step in the right direction as the lake experienced a partial fish kill several years ago that wiped out the big bass (past lake record catches included several over eight pounds).
Fish Stories – I've always enjoyed fishing the lake with Chris as the guide as I not only learn how to fish the water but also a little history of the fishery. So as the substitute guide it was fun to pass along some of the lore to Dad. From spots of the lake that were estimated to never hold water to the exact spot where a bass over eight pounds was reeled in to the decision to stock tiger muskies to the spot where I caught one of them to the spot where Chris landed one of similar stature, it was fun, as always, to tell some fish stories. Fishing never fails to leave a lasting impression and The Rock is something special.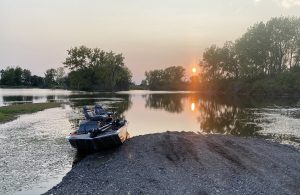 The end of a good day on a great fishing hole
Thanks, Chris, for a chance to get out on the water with Dad for a memorable and productive evening of bass fishing. Much appreciated by a couple of guys who have shared more than a few hours creating some memories and chasing some fish for many years. I'm sure Dad's been telling some of the new fish stories to Mom. Hope she doesn't make him wear his life jacket in the living room.
Talk to you later. Troy