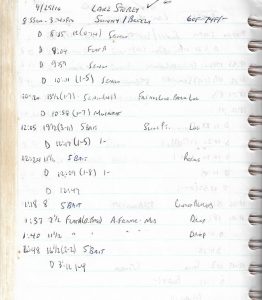 Original log entry from September 29, 2010
Ten years ago this week, Dad and I hit up Lake Storey for some bass fishing on his birthday. Below is the original fishing report from our day on the water, a solid fall drawdown outing.
Originally Posted 9-30-10
It always brings a smile to hear someone groan that fishing at Lake Storey is "a waste of time" or gripe that "there's no fish in there." There have been days when I've felt their pain, but in the end, I know better. This highly pressured body of water can no doubt be a tough nut to crack but that makes it all the more rewarding on a day like yesterday.
Date: September 29, 2010
Location: Lake Storey
Time: 8:55am-3:40pm
Air Temp: 60-74F
Totals: 16 bass (Dad 9, Troy 7)
Lures: Mann's Baby 1- (unknown) – 4 bass, Quad Shad spinnerbait (white) – 4 bass, 5" Yamasenko wacky rig (natural shad or smoke with large black flake) – 4 bass, Bomber Flat A (honey shad or baby bass) – 3 bass, Vicious Muskrat (green pumpkin) – 1 bass
Top Bass: 3-11 (Troy – Quad Shad spinnerbait)
Top 5 Weight: 10-3 (3-11, 2-2, 1-8, 1-7, 1-7)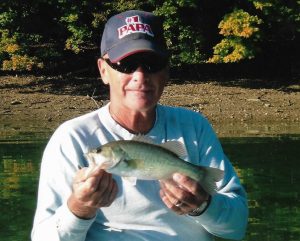 8:55am – Dad with a first cast bass before I ever got in the boat
Notes and Nonsense
No Jinx – After getting the boat in the water I had to make a restroom stop in the bushes before starting the day. Upon returning to the boat, Dad already had me down one to nothing without ever leaving the bank. His Senko produced a bass on his very first cast of the day along a laydown. We've long viewed this as a bad omen but Dad went on to prove that such superstitions are unfounded. Then again, perhaps it was simply negated by his lucky buckeye.
Variety – Unlike the Senko domination at Lake McMaster, Lake Storey required a more varied arsenal. On one hand, I don't really care how we catch the bass as long as we catch them. But, on the other hand, the change of pace was certainly fun as each lure has its own merits along with an entirely different feel in regards to presentation and strikes.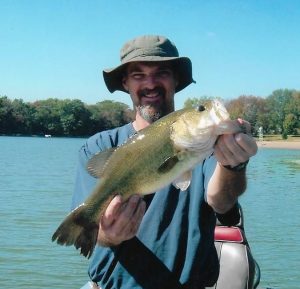 12:05pm – Top Bass at 19.5″ and 3-11 on a spinnerbait
Redefining Shallow – A lunchtime gamble turned a fair day into a good day with six bass along a couple hundred yard stretch of shallow, windblown bank. I'd pulled this stunt one other time back on November 1, 2008 and figured the conditions made it worth another try. We hit isolated pieces of cover including cinder blocks, logs and chunk rock along an extended flat sometimes having to make multiple casts or change angles to get bit. A key to the pattern was schools of baitfish that would scatter as a crankbait or spinnerbait landed within mere inches of the shoreline.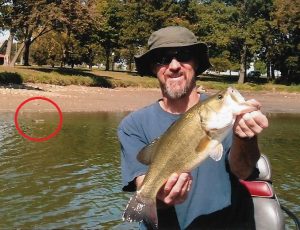 Super shallow wood chunk where I caught our Top Bass, its a wonder his back wasn't sunburned
Top Bass – A prime example of this shallow water pattern was my 3-11 taken off a chunk of wood (beyond my right shoulder in photo above) in what couldn't have been more than 6-8" of water. While this was the desired result it still had us shaking our heads in disbelief as it was amazing that the bass' back wasn't protruding above the surface.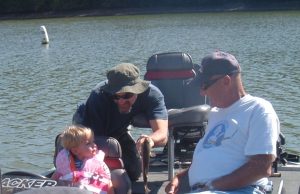 Fun to take a visitor for a boat ride and introduce him to a Lake Storey bass
Guest Angler – My little guy, Jayce (age 16 months), joined us for a boat ride and got to check out a bass we'd briefly stashed in the livewell for him. The only thing was the poor kid had to wear a pink lifejacket but such is the price of having a pair of older sisters. Regardless, he still seemed to enjoy the ride as he took in the scenery and gnawed on some French fries while rather immobilized by the bulky flotation device.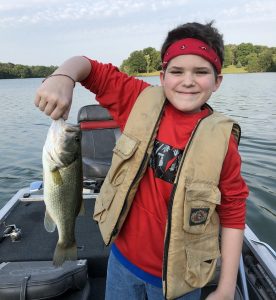 Same fella, nine years later with a Lake Storey catch of his own and minus the pink life jacket
Happy Birthday – Although my annual birthday outing never materialized back in July, I was happy to share the boat with Dad on his birthday. The kids made him some creative cards and we went with the standard gift of fishing stuff. The lures provided immediate reward as he landed a 1-7 on a Vicious Muskrat and his first cast bass came on one of his new Senkos. He also outfished me nine to seven as I decided to give him all the good spots being it was his day.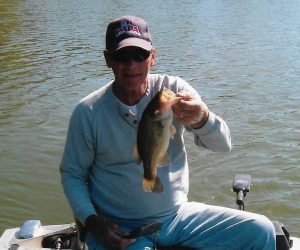 Good old Lake Storey with Dad, one of many memories dating back to the 1970s. Crappies on the Gapen Fishie lure, a tall tale about tobacco juice enhancing the bite, a day of dueling muskies, the one-eyed bass record, a jaw-dropping walleye, a bass out of the top of an exposed stump, a crappie tip from an old-timer at Al's Sporting Goods, catching bass on picnic tables…Talk to you later. Troy