As part of the "Snakeden at 30" celebration I had it in mind to get back on "The Big Lake", Lake McMaster, for the first time since 2013. While it is less tiring and more comfortable to launch and fish from the "big boat", I still prefer prowling the walk-in interior fishing holes thus the long stretch without a visit. So, here's how it went down as Brent and I ditched the boots and bikes, borrowed Dad's Bass Tracker and got it done.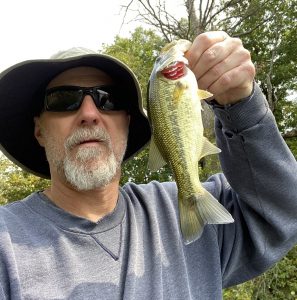 11:58am – First bass, no shutout, hoping they get bigger
Stats
Date: September 26, 2020
Location: Lake McMaster (Snakeden Hollow) – Knox County, IL
Time: 11:35am-6:35pm
Weather: Partly cloudy/very windy
Air Temp: 68-77F
Water Temp: 69-71F
Totals: 14 bass
Lures: Yamamoto Senko wacky rig (smoke) – 10 bass, Mann's Baby 1- Crankbait (Parakeet) – 2 bass, KVD Strike King Rattling Squarebill Crankbait (sexy shad) – 1 bass, Strike King Pro Model Series 5 Crankbait (sexy shad) – 1 bass
Top Bass: 1-12 Senko
Top 5 Weight: 5-14 (1-12,1-4,1-0,1-0,0-14)
Notes and Nonsense (song title version)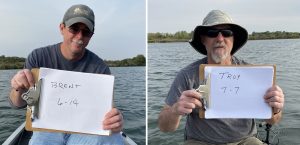 The Weight (The Band, 1968) – I thought it would be fun to bring back an old feature that we used to enjoy on some fishing trips. The guess the final weight game came with the added visual of writing it down on paper. I will admit that I borrowed the latter aspect from Bassmaster as it plays well for social media and a blog. The concept is to see who is closest with their prediction for the weight of our combined Top 5 bass (both of us contribute to the one final weight total). Brent was the winner although we fell a pound short of his guess. I ended up guessing a bit higher than my original thought as the sunny day in an earlier forecast had changed to overcast/partly cloudy. However, it also changed to very…
Windy (The Association, 1967) – While some surface chop on clear water can serve to make the bass a little less spooky, the winds on this trip were way overboard. I have no idea what the gusts were and overall it was a sustained wind the entire time. Even as we left at dark, the wind was still howling. The only breaks on the day were a short stretch of timbered bank on the southwest shore and part of the dam on the main body of the lake. Beyond that sixty minutes or so of casting, we took a beating. Truthfully, it would have been a better day for bank fishing and hiking but we were on a mission.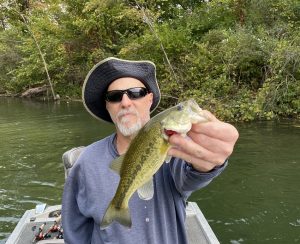 Did I mention it was windy?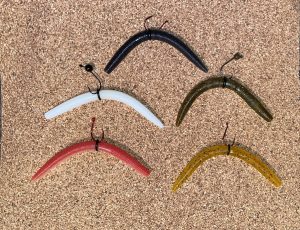 Only the top color and hook combination was a winner
It's In the Way That You Use It (Eric Clapton, 1986) – No matter when, where or how I fished my Senko wacky rig, the bass showed no interest. The above picture shows each of my efforts as I changed from weighted to weightless and ran through a batch of colors, all without a bite. I even fished a similar color to Brent's and wound up outfished 10-0 on the Senko. Now, I'm used to getting outfished by him and frequently it involves a spinnerbait. But a Senko shutout on Lake McMaster still has me scratching my head. My best guess is that I needed to slow down more and let the Senko sink as fishing too fast is one of my bad habits. Or maybe as Dad would say, "You weren't holding your mouth right."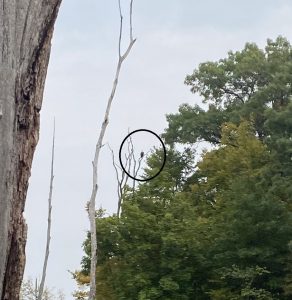 Fly Like an Eagle (Steve Miller Band, 1976) – this one took off before a close-up
Time After Time (Cyndi Lauper, 1984) – We weren't sure about our boat lights so the plan was to be back at the ramp at sunset which was 6:47pm or so. A glance at the ramp showed one trailer besides ours left in the lot and as we rounded a nearby point we spotted a boat at the dock. Perfect timing as the other anglers were taking out, right? Nope, it was a pair of night anglers just launching and seconds later a second truck and trailer pulled into the on deck circle. So we opted to troll over to the overflow on the dam so I could snap a few pics for the blog. And believe it or not, a third truck and trailer pulled up to get in line to launch. No big deal, no hurry to get home but I swear it rarely fails that the ramp suddenly becomes a popular place whenever we show up to launch or load.
A bit of a struggle versus conditions and bass but mission accomplished and fun to visit an old fishing hole. While the lake is still quite clear, it has gotten noticeably murkier over the last 30 years. While quality bites were in short supply, I'm sure there are still plenty of good fish that call McMaster home. While I was soundly outfished, it is always good to share a trip with my brother and he's a darn good angler, no shame in being taught a lesson. Time will tell if we are able to get in another tag team effort on the bass before the poles are put away. Another solo trip is in the books, however, so stay tuned for the fishing report from a productive strip mine hike. Talk to you later. Troy